Robert Earnshaw wants Cardiff City patience
Last updated on .From the section Football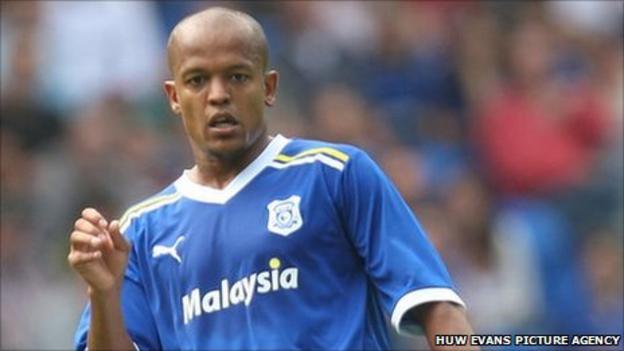 Cardiff City striker Robert Earnshaw has warned it will take time for their revamped squad to gel in the Championship.
The Bluebirds campaign begins on Sunday when they travel to West Ham United.
But as one of nine summer signings under new boss Malky Mackay, Earnshaw says management, players and fans must be patient.
"It's going to take a few weeks for Cardiff to actually start off," said the 30-year-old Wales international.
"It could just sort of escalate from the first game.
"But for everybody to understand each other - and the way everybody plays - I think it's going to take a few league games... for us to really get momentum and confidence with each other and start playing the right way.
"We've got so many new faces - the staff is new. We've got so many people who have come into the club, including me - so many faces, that it all takes time."
Earnshaw believes Mackay and his back-room team understand his point as they build a team that has seen 12 players leave since their play-off failure last season and manager Dave Jones' subsequent departure.
But the player who has returned to his home-town club on a free transfer from Championship rivals Nottingham Forest believes Mackay is building solid foundations for a new era.
"The one thing that we will have is the base right," said Earnshaw.
"We're going to work as hard as possible, we're going to try and play the right way and we're going to try and win games.
"If you've got that as a base then we can only get better and better."