Mali and Cameroon both lose at the Under-20 World Cup
Last updated on .From the section Football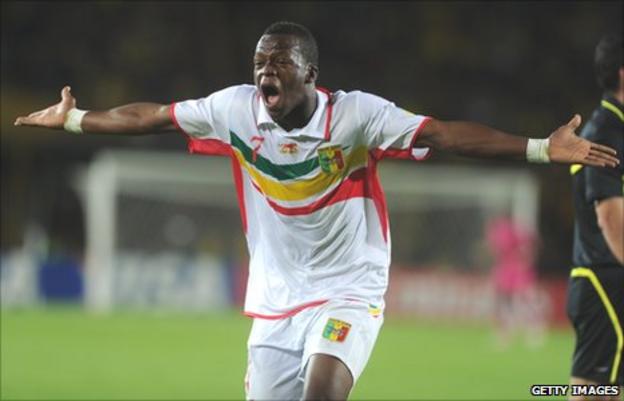 Mali lost 2-0 to hosts Colombia in Group A at the Under-20 World Cup on Tuesday, while Cameroon lost their second Group B game 1-0 to Portugal.
Colombia's goals came from Jose Valencia in the first half and then James Rodriguez in the final minute, and takes them to the second round.
Mali coach Cheik Fantamady Diallo admitted his side lacked confidence.
"We've doubted ourselves a lot since our first defeat (2-0 to South Korea) in the competition," he said.
"We've lost to a very good side of Colombia backed by its fans which gave them a lot of confidence."
Rodriguez wrapped up the points for the Colombians just moments after Kalifa Traore was dismissed for a second bookable offence in the 89th minute.
The 42,000-strong sellout crowd produced non-stop noise with vuvuzelas - made infamous in the 2010 World Cup in South Africa - and exploding fireworks to welcome the team to the field.
He admitted it will be tough for them to advance after the two defeats.
Mali need at least a 2-0 win over France in their final group game on Saturday to stand any chance at all of advancing as one of the four best third-placed teams.
"Even if we win the next game, we haven't scored any goals so far - it will be very difficult," the coach said.
"We're hoping to win against France and snatch the opportunity to be one of the best four."
Diallo says poor preparation for the tournament has hampered their efforts.
"The world cup is a serious competition and we didn't get the type of preparation such a competition requires," he lamented.
"We should have come close to Bogota weeks before the kick-off to get used to the altitude and the weather."
In the other Group A game on Tuesday France beat South Korea 3-1.
Striker Nelson Oliveira scored in the 19th minute to give Portugal their 1-0 victory over 10-man Cameroon.
Cameroon played the final 19 minutes with 10 men after defender Ghislain Mvom was red carded for kicking Caetano.
In Tuesday's other Group B game Uruguay outplayed New Zealand from the start but the game ended 1-1.
All four sides can still make it through to the next round ahead of Friday's final group matches that see Cameroon play Uruguay and Portugal take on New Zealand.