Stevenage boss Graham Westley calls for '11 hearts'
Last updated on .From the section Football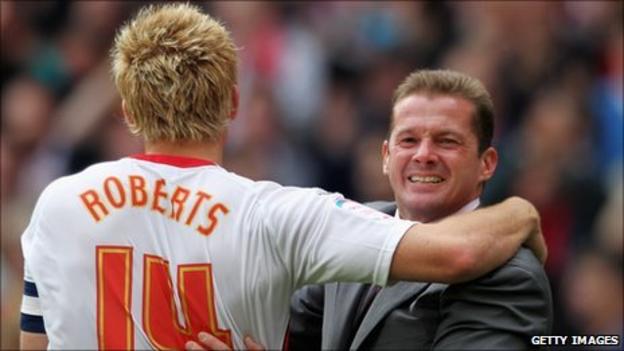 Stevenage boss Graham Westley has said his League One new boys will call upon heart and unity to match the division's big sides.
Boro will face former Premier League outfits Charlton, Sheffield United and Sheffield Wednesday during their first foray into the third tier.
"We can send out 11 hearts on the field every Saturday afternoon," Westley told BBC Three Counties Radio.
"The hearts at this place are very united, the spirit is strong."
He added: "There's some massive clubs in the league with huge resources and believe me, we don't underestimate that.
"I think we'll go into every game with a plan to win it."
Westley acknowledges he will not be able to compete with the financial clout of the majority of League One teams, but he remains unconcerned.
"We can only pay what we can pay," he said.
"The budget is affordable for the chairman and the board, the club never overspends.
"We can't go and pay thousands of pounds a week for players, we have to go and spend hundreds of pounds a week on players, which is fine because there's plenty of players who want to play League One football."
Captain Mark Roberts, who has led Boro to back-to-back promotions, echoed his manager's thoughts, and hinted the Hertfordshire side may even fancy a tilt at a third successive step up in leagues.
"If you don't think you can then there's not much point playing," he said.
"We've got to have that belief we can aim for the top again, we've climbed some incredible mountains along the way and we're now standing at the bottom of the next."