Hearts owner Vladimir Romanov defends Jefferies sacking
Last updated on .From the section Football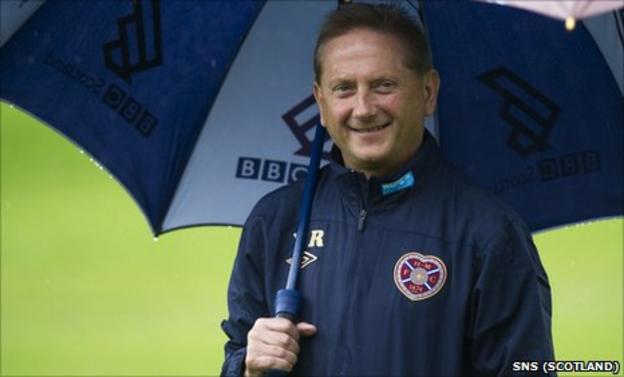 Hearts owner Vladimir Romanov has attacked the media reaction to his sacking of manager Jim Jefferies.
Jefferies was removed after an 18-month spell and has been replaced by former Sporting Lisbon coach Paulo Sergio.
In a statement, Romanov said: "Judging by the pre-planned squeals the media monkeys are making, Hearts has hit the point with the move.
"With only one competitive win in 15 games, only fools and idiots would not raise questions and suspicions."
Jefferies was appointed manager at Hearts for a second time on 29 January 2010 after the departure of Csaba Laszlo and led the club to third place in the Scottish Premier League last season.
His long-time colleague and assistant Hearts boss Billy Brown was also sacked on Monday, while first-team coach Gary Locke's position is under review as Sergio becomes the latest in a long line of managers during Romanov's seven-year tenure.
"I now understand why Scotland is in 61st place in Fifa rankings behind such poor football countries like Lithuania, Albania and Gabon," added Romanov in the brief statement on the club's website.
Romanov offered Jefferies a director of football role at the club, which the 60-year-old turned down.
Jefferies told BBC Scotland he would have felt uncomfortable stepping upstairs and working with the man who replaced him - and accepting a position while assistant Brown was leaving the club.
Romanov was at Tynecastle on Sunday to watch Hearts lose 1-0 to Dundee United, having started the season with a pair of 1-1 draws - away to Rangers in the SPL and at Paksi in the Europa League.
The language used by Romanov in his statement has echoes of a website entry posted in February 2007 entitled "Monkeys go home!" which questioned referees' integrity.
It also took aim at journalists and the football authorities and Romanov was given a suspended fine of £25,000 by the Scottish Premier League after it ruled his comments had broken league rules.
Meanwhile, former Hearts chairman George Foulkes has told the BBC that Jefferies was removed for standing up to Romanov's interference.
Foulkes was chairman of the club when Romanov bought his majority shareholding, but resigned in 2008 in protest at the dismissal of chief executive Phil Anderton.
"That was my problem," said Foukles. "I stood up to him and I had to go, because I wasn't prepared to work with someone who wasn't going to listen to me and take advice from someone who was on the ground in Scotland and Edinburgh."
"Jim Jefferies, I think, has also suffered as a result of that."