Appiah looks to move into coaching
By Michael Oti Adjei
BBC Sport, Accra
Last updated on .From the section Football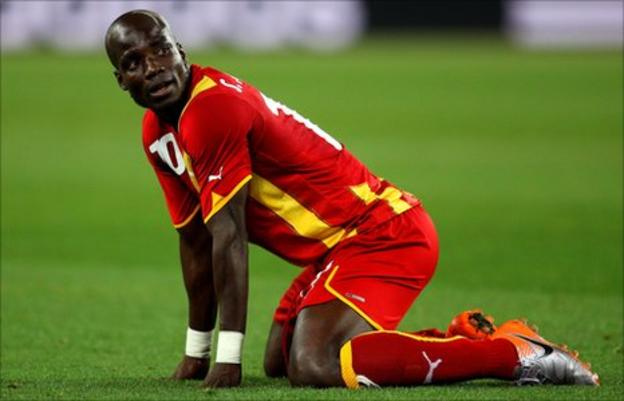 Former Ghana captain Stephen Appiah says he is ready to take his next big step in the game - coaching.
Appiah retired from international football after the 2010 World Cup in South Africa where the Black Stars bowed out in the quarter-finals.
After distinguishing himself in a Black Stars jersey, he has now spoken of his desire to turn his hand to coaching.
"If the chance comes, why not? But first I have to take my [coaching] badges," Appiah told BBC Sport.
The former Juventus and Fenerbahce midfielder added: "We should not talk about coaching the Black Stars now because I'm not in a hurry.
"Sometimes when you're in a hurry you lose everything, so I must start from somewhere.
"I could assist someone and then see what happens after that. Who knew Guardiola would become one of the best coaches in the world?"
Appiah's professional career is frozen in limbo after the expiry of his contract with Italian outfit Cesena at the end of last season.
He aims to begin his formal coaching education next month having overcoming his initial fear for the profession.
"I used to tell my friends that I would have nothing to do with the game after my playing days but most of them feel I have a lot to give to football."
Appiah is respected in Ghana for his winning mentality and the ability to give guidance to younger players in the national team.
He has a glamour list of role models he would like to emulate in the dug-out.
"Guardiola was my mate at Brescia and I love his style. I think the way he appears on the touchline in his suit is fantastic.
"I love [Jose] Mourinho; I love [Fabio] Capello. I love coaches with character."
One of Ghana's most revered captains revealed that he has been meditating on the idea of coaching for some time, and believes he has the right credentials for the job.
"I'm a nice guy but when it comes to work, I don't joke at all. I'm a nice guy with character."
"I'm always ready for whatever happens. I'm a hardworking guy and I love challenges."