Ghana FA aim for sustained success after World Cup show
Last updated on .From the section Football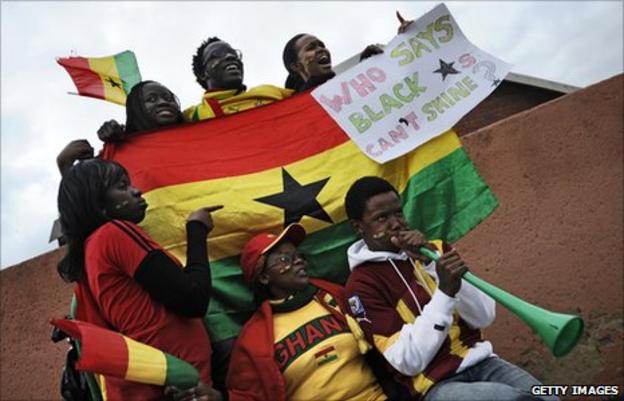 The Chairman of the Ghana Football Association (GFA), Kwesi Nyantakyi, says he wants the Black Stars to break into the top ten of the Fifa rankings.
Ghana were World Cup quarter-finalists in 2010 and rose to 15th in the global standings earlier this year.
They have since slipped back to 36th but Nyantakyi remains optimistic.
"Five years ago we were 50th in the world, there's still a lot we can do to enhance our status," he told the BBC's World Football programme.
Nyantakyi is looking to the country's youth set-up to help develop the team, with Ghana having won the Under-20 World Cup two years ago.
"[We will] maintain and consolidate our position as the best in Africa by extending our dominance into youth football," he said.
But the progress of Ghana's youth teams has stalled in recent months, with the Black Satellites failing to qualify for the current Under-20 World Cup in Colombia.
They did not win a single game at the African Youth Championship earlier this year in South Africa and assistant coach Yaw Preko told the BBC that their previous success had hampered them.
"We had a bunch of good players [in South Africa] but for some reason they choked, I think they couldn't handle the pressure," he told World Football.
"You know most of the time as underdogs you go in and deliver but as defending African champions, defending World Champions, I think it was too much for the boys - so they choked."
The global rankings were introduced by Fifa in 1993 and a year later Nigeria reached Africa's highest ever ranking of fifth in the table as they headed to the World Cup in the USA.
One member of that side was Daniel Amokachi, who told the BBC that African teams which had had success at the World Cup - Cameroon in 1990, Nigeria in 1994, Senegal in 2002 and, maybe, Ghana in 2010 - tended to relax, rather than strive for even greater heights.
"I've always said we've had this African cockiness. You know we have this good outing [at the World Cup] and we think we've reached the top of the world and we stop focussing," he said.
"Players get cocky and don't do what they need to do on the football field."
You can hear more of what Kwesi Nyantakyi, Yaw Preko and Daniel Amokachi have to say on World Football on the BBC World Service. The programme is on air and online from 0230 GMT on Friday.