Paulo Sergio insists he will pick Hearts' team
Last updated on .From the section Football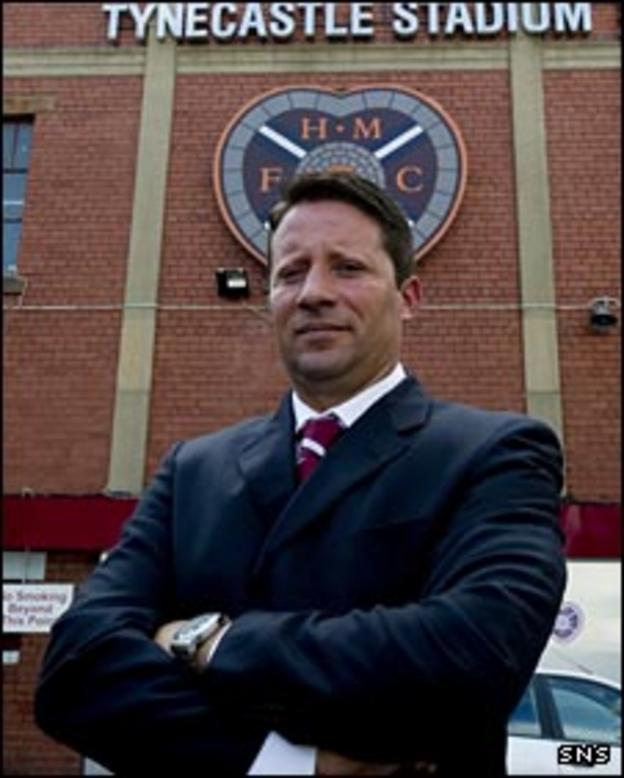 Paulo Sergio does not expect Vladimir Romanov to meddle in team selection but says the owner wants him to change the way Hearts play football.
Previous managers have complained that Romanov has interfered in selections.
"Picking the team is my job," said Sergio, who was appointed manager this week after Jim Jefferies' departure.
"But I think he wants more agreeable football, a different kind of football. He wants to change the type of coaching, I think."
However, Sergio is happy to leave transfer business to Romanov.
"Transfers - I'm used to saying to my directors what I think and I hope they can give me what I want," said the 43-year-old Portuguese.
"But who is the owner of the money? It's not me who pays."
Jefferies was dismissed on Monday despite a draw away to Rangers on the opening day of the season and another in Hungary against Paski in the Europea League.
His side then lost 1-0 at home to Dundee United on Sunday, but the decision to replace him appears to have been already taken, with Sergio revealing that his agent had told him of the club's interest "last weekend".
"I don't believe it was because of the results in the beginning of this season that the board made the change," said Sergio. "I can't believe that.
"I agree a draw at Ibrox is a good result, a draw away in the Europa League is a good result.
"It's not my responsibility to make the change. And I have all the respect for the work done by Jim."
Romanov cited a run of 14 games without a win stretching into last season as justification for Jefferies' departure.
Now the Russian-born businessman has turned to the man who was in charge of Sporting Lisbon when they lost to Rangers in the Europa League last season.
Sergio has become Hearts' ninth manager since Romanov took over in February 2005 - in addition, John McGlynn and Eduard Malofeev also performed the role on a temporary basis.
When pressed on the owner's past history, Sergio said: "I just met him on Monday when I arrived here - that was my first contact with the owner.
"I'm going to work every day with a big motivation and to concentrate on my job.
"The guys that have the powers to make those decisions, when the day arrives they are not satisfied with my job, okay, I pack my bag and I go elsewhere.
"When you look so far, you forget to be happy today."
Some Hearts fans have expressed their anger at Jefferies' departure, which was quickly followed by the arrival of Sergio and assistants Alberto Cabral and Sergio Cruz.
"I can tell the fans what I told the players," said Sergio. "I'm glad they aren't satisfied with the change - that's a sign of their character.
"They respect Jim a lot, as I do. They respect Hearts and a legend like Jim.
"If I'm sacked from some place and have the feeling the fans have for Jim, that means it is good to be in football. It's a good compensation."