Twitter poll sparks Stockport bid for George Donnelly
Last updated on .From the section Football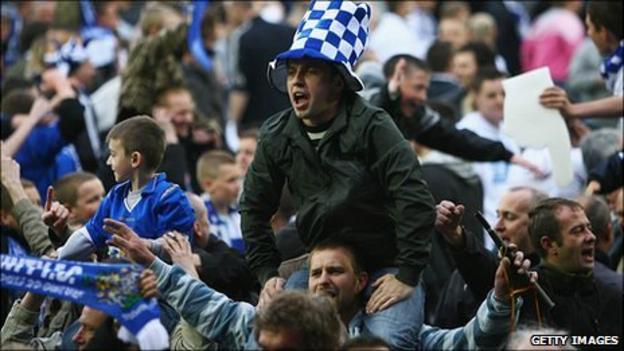 Stockport County are the latest club to embrace the Twitter revolution with the Blue Square Bet Premier team asking fans to choose who they should sign next.
It is the latest example of how Twitter is having a major impact in football, on and off the pitch.
After the fans had their say and chose Donnelly, Evans posted to his 515 followers: "The fans have spoken the poll is clear to see.
"The club will now try and sign GD! Might not happen but we have now made a enquiry. Let's see what happens. Didi [manager Dietmar Hamann] wants him."
Evans later confirmed to BBC Sport a bid had been made - after consultation with County manager Hamann - but the two clubs' valuation of the player was way off.
"We've made an enquiry, but what they want for the player is very different to what we are offering so we will see if the deal happens," added Evans.
Asking fans to choose who they should sign is an unusual move and the latest indicator of the power of social networking, and Evans is quick to acknowledge this.
"Supporters are the most important thing at a club and listening to them is crucial," Evans told BBC Sport.
"I was interested to know who they would rather we sign, and the poll was clear.
"However, ultimate control is held by the manager and he has the final say. Didi Hamann decides which players we bring in."
In July, supporters of the two most popular clubs in South Africa chose the teams for a pre-season friendly between Orlando Pirates and Kaizer Chiefs via text.
A mobile phone poll attracted 11m votes to chose the starting line-ups. The match ended goalless.
And in 2008, in a landmark for English football, members of fans' website MyFootballClub approved the takeover of Ebbsfleet United.
A year later more than 3,000 members of the club made history by ratifying the signing of Brentford's Darius Charles.
Evans, who is part of a consortium hoping to take over at Edgeley Park, says the manager should hold ultimate control of team affairs, but he can see the benefits of Twitter for football clubs.
For example, he recently asked fans on the site to help out with a shortage of turnstyle operators on match days offering them free tickets to the game as a reward.
But it is the opportunity to reach out to a large number of people quickly and inexpensively that is the most valuable incentive for cash-strapped clubs.