Owen Coyle rejects talk of Anfield move for Gary Cahill
Last updated on .From the section Football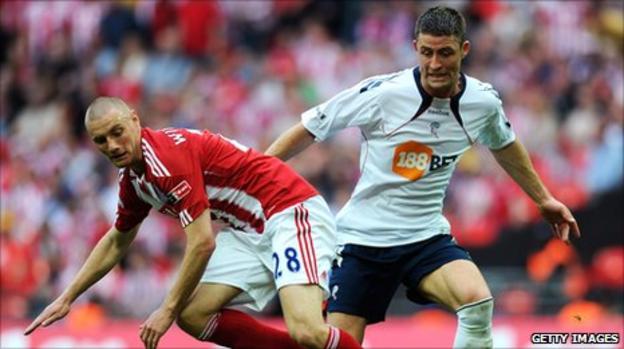 Bolton manager Owen Coyle says reports suggesting star defender Gary Cahill is on the verge of a big-money move to Liverpool are "without foundation".
The England defender has been linked with moves to Arsenal and Manchester City this summer.
There has also been speculation suggesting that Liverpool are close to securing a deal for the 25-year-old.
But Coyle said: "It is irresponsible. Nothing has happened, there is nothing concrete, there is nothing to report."
Liverpool, who face Valencia in a friendly on Saturday at Anfield, have struggled defensively in pre-season and could do with back-up to the injury-prone Daniel Agger and veteran defender Jamie Carragher, 33.
But Coyle made it clear that an imminent move for Cahill to Anfield was not on the cards.
He said: "This story is without a shred of foundation. To just reel words off is in poor taste. Nothing surprises you in football but people should have more knowledge of the background for anything before they write it.
"It doesn't faze me. I am not raging about it. I am just making a point.
"If someone leaves, it will be the right business for the club but I don't pre-occupy myself with thoughts like that when I have a team to prepare for the rest of the season."