Rangers exit 'bad for whole SPL', says Neil Doncaster
Last updated on .From the section Football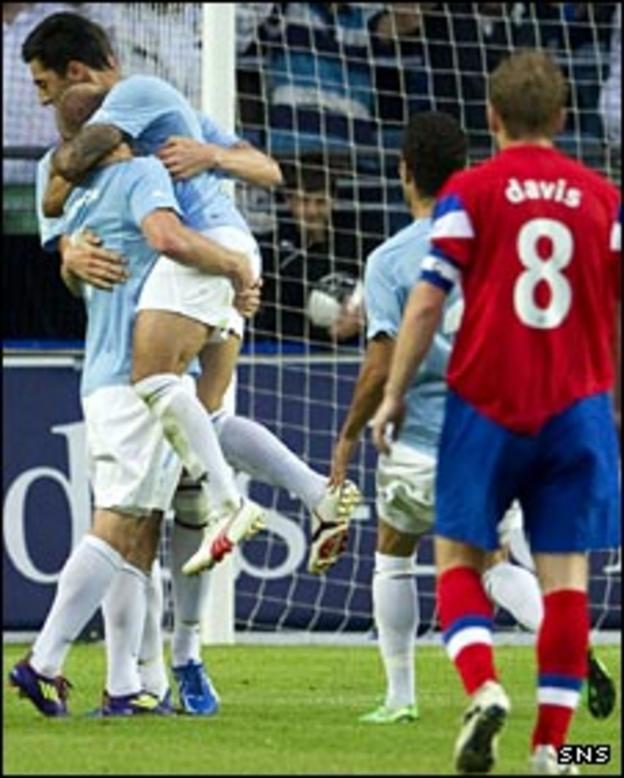 Scottish Premier League chief executive Neil Doncaster says Rangers' Champions League exit will badly affect the finances of all his member clubs.
Rangers lost 2-1 on aggregate to Malmo in the third qualifying round.
"With a team in the group stages of the Champions League, that meant much larger solidarity payments from Uefa for all of our clubs," said Doncaster.
"With Rangers now going into the play-offs for the Europa League, that means less money for the rest of our clubs."
Rangers earned just over 17m euros from their participation in the Champions League in season 2009/10.
That was without winning a single match and last season's earnings would have been even greater given their improved performance in reaching the last 16.
However, this time they fell at the same hurdle as Celtic did last season.
"It's certainly a huge disapointment for Rangers fans, but it also has an impact on the whole of the Clydesdale Bank Premier League as well," Doncaster told BBC Radio 5 live.
The chief executive admitted that financial backing held back Scottish clubs but stressed that his league was able to hold its own with those from similar sized countries in Europe.
"There is still a lot to look forward with Rangers and Celtic still in the play-offs and Hearts in Europa League action as well," said Doncaster.
"Money is a key part, but relative to the rest of the Europe, we go back to two Champions League places next year because our European coefficient has gone up since last year.
"We've got players like David Goodwillie, who has just signed with Blackburn - he is clearly a bright young talent going for a multi-million pound sum."
Doncaster stressed that, like many other leagues, it was inevitable that the best players would eventually move up to a higher level, with the Premier League in England being a particular attraction because of the English language.
Meanwhile, Rangers goalkeeper Allan McGregor refused to single out Steven Whittaker and Madjid Bougherra for blame after the defenders were both sent off against Malmo in Wednesday's second leg.
Asked if he was disappointed in the pair, the Scotland international said: "I don't know if disappointed is the right word. I'm disappointed how it worked out.
"It was one factor. I think there was probably a few other factors as well, but that was definitely one.
"Of course we're frustrated because we're not in the Champions League, but the boys did put a great shift in, started really well.
"It's just unfortunate what happened, but there's nothing much you can do about it."