Paulo Sergio dedicates Europa league win to Jim Jefferies
Last updated on .From the section Football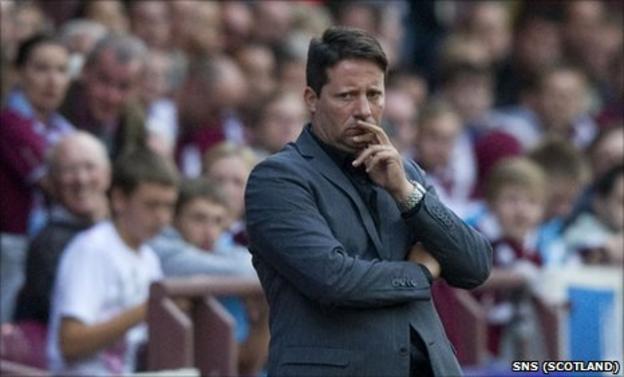 New Hearts manager Paulo Sergio has dedicated their Europa League win to his predecessor Jim Jefferies.
Two days after Jefferies left the club, the Portuguese oversaw a 4-1 Europa league win over Paksi of Hungary to progress 5-2 on aggregate.
And Sergio says the outgoing Tynecastle boss should take a share of the credit.
"Nobody changes everything within two days, there is a lot of Mr Jefferies in this game today," the new Hearts boss said.
"I want to dedicate this win to Mr Jefferies. This win is for him too.
"Our qualification is through his work."
Despite securing their place in Friday's Europa League draw, the former Sporting Lisbon coach was unhappy with elements of the performance, particularly the loss of a late goal to Paksi's Daniel Bode.
"Winning 4-1 is a very good result, but to suffer this goal at the end of the game made me unhappy," Sergio added.
"The game finishes when the referee whistles, not because we think it is finished.
"I didn't like that but we no have a good DVD for now to work on."
And the Hearts boss now has increased injury concerns to deal with ahead of their league match against Motherwell, with both Stephen Elliot and captain Marius Zaliuskas substituted through injury.
"I was worried before the match because we had so many players injured, and now we have Marius and Elliot out too," he said.
"I'm very worried about that. I don't know who we have to play against Motherwell, but I trust in the guys.
"We have young players in the under 19 team I can turn to if I need to, I'm not worried about that - I just need time to get to know them better."
And Sergio says he won't rush into the transfer market without getting to know his existing squad better.
"It would not be fair to think about other players without having a proper perception of the players I have.
"It is a shame I have so many players injured and I don't get a chance to see them work."