Sven-Goran Eriksson says England needs a winter break
Last updated on .From the section Football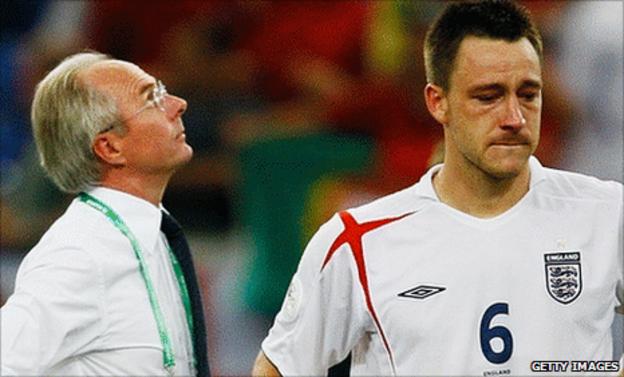 Former England manager Sven-Goran Eriksson says England will struggle to win a major tournament unless the Premier League adopts a winter break.
The Leicester boss feels the demands of the league programme are hampering hopes of success for the national team.
"It's more difficult for England than other countries to do well in a big tournament," he said.
"You have to have a break. You need to give every Premier League player seven days to fly to wherever they want."
He added: "They can have sunshine, relax and then one week of preparation and then start again."
Eriksson, who led England to the quarter-finals of three major tournaments between 2001 and 2006, told The Daily Telegraph: "Owen Hargreaves was the fittest in tests (prior to the 2002 World Cup) because he had the long winter break (with Bayern Munich).
"Uefa did medical research into injuries in the big leagues in Europe from March 1 to the end of the season. England were higher with injuries than anyone else [by four to one]."
During his time as England coach, Eriksson lobbied club managers for support on the mid-season break. His allies included Manchester United's Sir Alex Ferguson and Arsenal manager Arsene Wenger, but the Premier League resisted.
He added: "You don't learn, because the Premier League want games to be played all the time, so people can watch it everywhere.
"The expectations on England are too high. Before the big tournaments start, the expectation with England builds up and up and up, and you are more or less world champions before you have kicked a ball.
"I don't know whether it is to do with '66, but you build the players up too much."