Lord Moynihan confident of Team GB Olympic team
Last updated on .From the section Football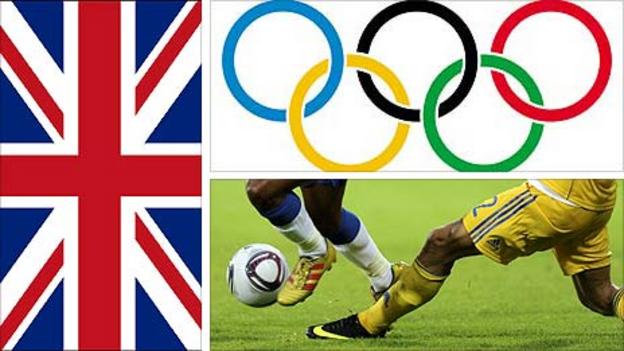 British Olympic Association chairman Lord Moynihan still believes a Great Britain football team will represent all nations at London 2012.
The FAs of Northern Ireland, Wales and Scotland are refusing to take part over fears it would compromise their separate identities in world football.
But Moynihan said: "I am confident that we will see a fully representative team at the Olympics.
"Both the men's and women's teams would have good medal prospects."
The conflict between the two factions appeared to have ended six weeks ago when the BOA announced it had come to a "historic agreement" with the home nations that would allow players from all four countries to be named in a Team GB football squad.
Any such hopes were soon dashed when the Welsh, Scottish and Northern Irish FAs issued a statement furiously denying this was the case.
The SFA claim that none of their male squad voiced enthusiasm for taking part when asked, although some members of the women's team have said they would like to take part if given permission.
Wales' Gareth Bale and Aaron Ramsey are two male players who have publicly stated their desire to play in the competition, while a number of others are thought to be taking legal advice over their position.
And Moynihan, who won a silver medal in rowing at the 1980 Games, insists the home nations should not prevent their players from taking part in a once-in-a-lifetime opportunity of winning an Olympic medal in Britain.
"There are great players from Scotland, Wales and Northern Ireland. I want to see them join the squad so we can put out the best of British," he said.
"The Football Association are responsible for putting in place the coaching of the team and the selection process and I'm confident that we'll see a men's and women's team competing in 2012."
Glasgow and Cardiff will host Olympic football matches as well as four English stadia.
The home nations complained that they had not been consulted properly prior to June's announcement of the supposed "agreement", but Moynihan denies this was the case.
"All the home nations have been consulted throughout the process and that consultation exercise is very important," Moynihan said.
"We have needed to listen carefully to the concerns of the home nations.
"We have needed to talk to the IOC, we have needed to talk to Fifa. We remain confident that putting a men's and women's team in will not inhibit the independence of the home nations in international competition."