Paul Scholes 'one of Manchester United's greatest' says Sir Alex Ferguson
Last updated on .From the section Football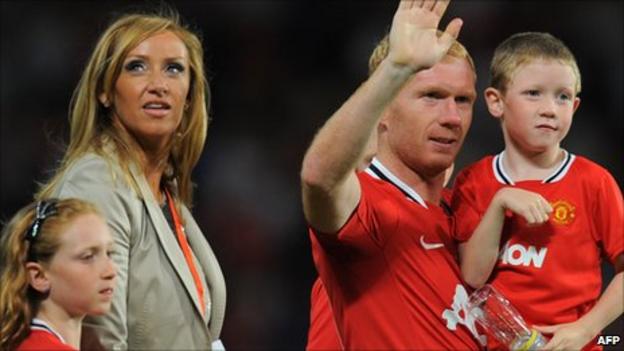 Sir Alex Ferguson has hailed Paul Scholes as one of Manchester United's "greatest players of all time".
The United manager led the tributes as the 36-year-old former England midfielder was honoured by a sell-out crowd at Old Trafford for his testimonial match on Friday.
United beat New York Cosmos 6-0, with Scholes himself opening the scoring with a trademark 20-yard strike.
Scholes left the field to a standing ovation on 75 minutes.
After returning to the pitch to acknowledge the crowd, he said: "The goal was nice. I just hope I've given the fans some decent memories. I just want to say 'thank you' to everyone.
"I've been privileged to play with so many good players at this club, it's been a great pleasure. [Thank you] to my family, who mean the world to me and also the people who organised tonight as I know how much hard work has gone into this."
Ferguson said: "To my mind Scholes will go down as one of the greatest players of all time for Manchester United."
Many of Scholes's former team-mates have paid tribute to the Salford-born midfielder, who clocked up 676 appearances and scored 150 goals for United and has now joined the club's coaching staff.
Ferguson added: "I was with Fabien Barthez on Wednesday having a chat and he said 'pass my regards on to Scholesy, he's the best player I ever played with'."
An all-star New York Cosmos side, assembled by the club's director of soccer Eric Cantona and honorary president Pele, included Nicky Butt, Wayne Bridge, Sol Campbell, Fabio Cannavaro, Brad Friedel, Robbie Keane, Gary Neville and Patrick Vieira.