Arsenal chief meets Barcelona over Fabregas deal
By Dan Roan
BBC Sports News Correspondent
Last updated on .From the section Football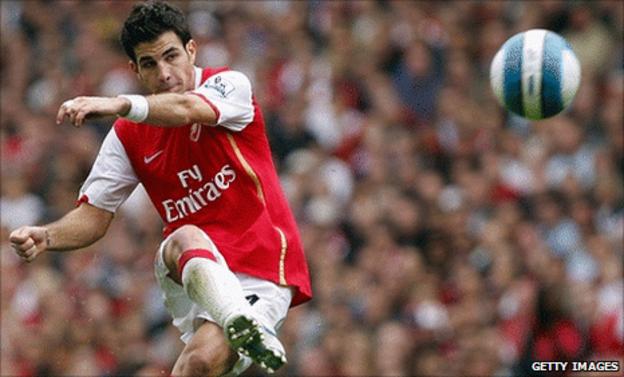 Arsenal manager Arsene Wenger insists there is "no need to add something" to the Cesc Fabregas transfer saga after chief executive Ivan Gadzidis met with Barcelona officials.
Fabregas has long been linked with a move to the Catalan giants, and Gadzidis is believed to have met with the European champions on Friday.
The Gunners captain has not travelled to face Benfica with his team-mates.
"I do not want to speak about the transfer of Fabregas," Wenger said.
"I have done that three years now in every press conference so I don't think there is any more need to add something.
"I love Fabregas and I want him to stay, that is basically it.
"Everybody is free to think what they want. We cannot stop people raising questions."
BBC Sport has learned that the Gunners are yet to receive a second bid beyond the £27m Barca offered last month.
But the club are prepared to sell their 24-year-old skipper if the Spanish giants meet their £40m valuation.
Majority shareholder Stan Kroenke will not take part in the talks having flown home to the US after a visit to the Emirates on Thursday.
Fabregas has been heavily linked with a move back to the Nou Camp, where he started his career as a 10-year-old in the academy, for the past two summers.
Fabregas was forced to wear a Barca shirt by his team-mates as the country celebrated winning the World Cup last year.
The transfer window does not close until the end of this month, but Barca will be keen to complete a deal before Tuesday 16 August when Arsenal face Udinese in a Champions League play-off.
If Fabregas lines up against the Italian side he will be cup-tied in the competition.
Last month Barcelona coach Pep Guardiola revealed his desire to sign the Arsenal star.
"We will fight to the end to try to get Cesc because we believe he will improve the team and the squad," he said.