U20: Cameroon through as Mali out
Last updated on .From the section Football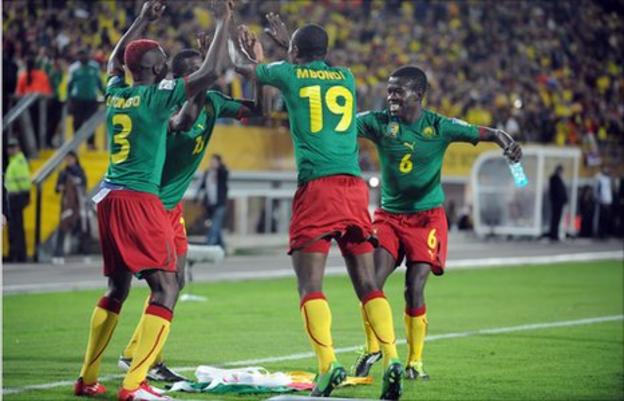 Cameroon defeated Uruguay 1-0 to claim a place in the knock-out stage of the Under-20 World Cup while eliminating the South Americans.
Emmanuel Mbongo scored in the 28th minute for Cameroon, who finished with four points from three matches and second place in Group B.
The Cameroonians will play Mexico in the round-of-16 in Colombia.
Portugal won Group B following a 1-0 victory over New Zealand.
Mbongo's goal came after taking a pass from Christ Mbondi and shooting past Uruguay goalkeeper Salvador Ichazo.
Uruguay's Cesar Texeira had a clear chance to equalise in second-half stoppage time, but his close-range shot sailed over the crossbar.
"Overall, we were better organised today and played with more determination," said Cameroon coach Martin Ndtoungou.
Tempers flared as the first half ended when Uruguay's Leandro Cabrera picking up a yellow card after crashing into Cameroon goalkeeper Jean Efala.
The incident set off pushing and shoving in front of the Cameroon goal.
Meanwhile, Cedric Bakambu and Alexandre Lacazette scored second-half goals as France defeated ten-man Mali 2-0 to advance to the second round.
Bakambu found the net with a right-footed shot into the far corner in the 70th minute - a minute after Mali had a man sent off - and Lacazette sealed the victory in the 77th minute.
The Malians played with a man down from the 69th, after defender Mohamed Konate received a second yellow card.
The win gave France six points from three matches, taking second place in Group A.
Hosts Colombia defeated South Korea 1-0 to win the group with nine points.
Mali exit the tournament with three defeats and no goals scored.