Malawi teenager relishes La Liga
Last updated on .From the section Football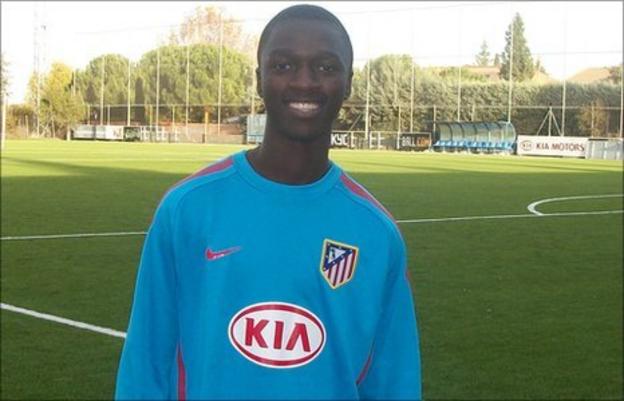 Robin Ngalande could be forgiven if keeps pinching himself at the moment.
Last year, the 18-year-old striker became the first Malawian to be signed by a club from Spain's La Liga when he joined Atletico Madrid's youth set-up.
After impressing in his first season, Ngalande has spent pre-season training with established first-team stars such as Jose Antonio Reyes and Diego Costa.
Last Wednesday, he also received his first call-up to The Flames senior squad to face Mozambique - although that game now looks set to be called off, after the Malawian government cancelled the team's trip to Maputo.
"It's been amazing - even just training with big stars like that is a great opportunity for me and it gives me real motivation for the future," he told BBC Sport.
"Now it's a big challenge because I will be playing with older players every week. But I'm loving the experience."
Ngalande was originally spotted at the 2009 African under-17 championship in Algeria by South African side Mamelodi Sundowns.
And after performing well for them during a youth tournament held in Madrid, he moved to the Spanish capital in September 2010.
"Madrid has been great so far and I have already learned a lot in the few months I have been here," he said.
"I'm just trying to learn the language but I'm getting there slowly.
"It's definitely been the hardest part of living in Spain but we also have players from Senegal and Ghana in the team, although I try to mix with everyone in the squad.
"I'm still improving my game and it is a great place to be."
"Some of the guys at Atletico call me Eto'o and it would be great to do as well as him in Europe."
With Malawi still fighting for a place at next year's African Nations Cup, Ngalande will become one of his country's youngest-ever players against Mozambique on Wednesday.
He has been called up before by manager Kinnah Phiri but was ruled out with injury and the teenager believes he is now ready to make the step up.
"The coach spoke to me some time back and I know that he wants me to be a part of the team."
"We have a massive game against Tunisia in September and if we can win that game then we will be at the Afcon."
"Robin is a very talented boy and since he moved to Spain he has got even better," said coach Phiri, himself a Malawi legend of note.
"You can see a lot of maturity in him and is very intelligent on the ball.
"We are very excited about his future and that's why we have invited him to the senior side at such a young age.
"I'm a real believer in bringing young players through as soon as possible."