Rangers boss Ally McCoist eyes Chelsea fringe players
Last updated on .From the section Football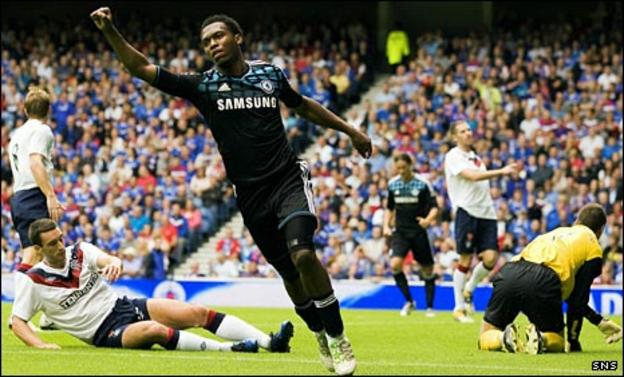 Ally McCoist could ask Andre Villas-Boas, for some of his Chelsea fringe players in a bid to bolster the Scottish champions' squad.
The Rangers boss and Villa-Boas first met at coaching courses in Largs.
And their sides played out a friendly won 3-1 by the Londoners at Ibrox, with Daniel Sturridge scoring a double.
"I had a good chat with Andre before the game and I am going to see him now and we will talk about out a few things," said McCoist.
McCoist this week secured the return of Kyle Bartley on a second loan spell after the central defender signed a new contract with Arsenal.
And the Rangers manager was pleased with the 20-year-old's performance in a side against a full-strength Chelsea that featured a number of fringe players.
"Obviously, when you get somebody of the quality of Kyle Bartley coming in, that's a great thing as you can see," said McCoist.
"He hasn't played a lot of football, but he looks comfortable.
"But it would be ridiculous of me not to use the good contacts that I have and I will certainly use every contact that I have to bring in the best players available to the club.
"You can be sure of that."
Rangers owner Craig Whyte promised more new faces after the Glasgow side crashed out of the Champions League qualifiers against Malmo in midweek.
Asked if he was closer to bringing in new faces, McCoist said: "We are working very hard to get players in.
"I am as hopeful as the next man, but time will tell.
"There is no point in me getting frustrated."
Nikica Jelavic had headed Rangers into the lead after only six minutes, but Sturridge scored twice before half time and Florent Malouda added a third after the break.
Chelsea's Frank Lampard also had a penalty saved by substitute goalkeeper Neil Alexander.
"It was great to get the young boys involved," said McCoist despite the defeat.
"It was great to get Ross Perry, Thomas Bendiksen and wee John Fleck did fine.
"And Neil always gives me food for thought, because he is a top goalkeeper.
"We feel we are blessed with two very good goalkeepers.
"You would have to say the youngsters have a very realistic chance, you just have to look at the injuries we had today.
"With Sasa Papac, Goian, Weir, Whittaker and Papac all out, that would indicate they have all got a chance of being involved.
"There are no guarantees, but now might be quite a good time if you are a talented young player at Murray Park."