Arsene Wenger still best man for Arsenal - David Dein
Last updated on .From the section Football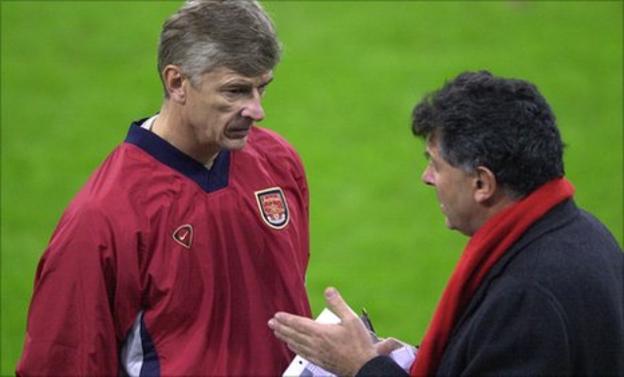 Former Arsenal vice-chairman David Dein believes Arsene Wenger remains the best choice as Gunners manager.
Arsenal have not won a trophy since 2005 and pressure has been mounting to bring silverware to the Emirates.
Dein, the driving force behind Wenger's appointment in 1996, told Sportsweek on BBC Radio 5 Live: "People have to remember what he's done and achieved.
"It's easy in life to get rid of people but then what? Getting someone better is the trick."
Dein, who left Arsenal in 2007, is still good friends with the Frenchman and is convinced trying to replacing him would be a huge task.
"How do you follow Arsene Wenger?" Dein said. "That is not going to be an easy exercise.
"He has got a talented array of players and obviously he wants to improve and I know for a fact that he is looking to bring in two or three more players if he can."
The Gunners have signed Gervinho and Carl Jenkinson and are still looking to sign a centre-half - with Everton's Phil Jagielka very much in their sights.
But even with a few new faces, Dein feels it would be foolish to demand Wenger delivers a trophy this season.
"Any chairman or manager who comes out publicly and says they are going to win a trophy is deluding themselves," Dein said.
"Who know what can happen in football? Mistakes happen, you get injuries, suspensions.
"But Arsene is very focused and determined - I see him regularly and he still has as much fire in his belly as he had when he started. He wants to win. I do believe in his ability.
"Arsenal are expecting success all the time but that's not easy - you cannot turn on a tap and guarantee to win games.
"He will admit he has probably had the most difficult couple of years of his career - for two reasons. One is the fact the game is getting more competitive. There is money coming in and it is more intense.
"Secondly, he had to contend with the fact that he hasn't achieved what he would have hoped to achieve - albeit he has done remarkably well in the quality and style of play, but he and the fans want to win trophies.
"But you under-rate Arsene at your peril."