Swansea City's tough act to follow
By Dewi Hughes
BBC Wales Sport
Last updated on .From the section Football
Riots in English cities, a royal wedding and Swansea City in the top flight of English football - this could be 1981 all over again.
Almost 30 years to the day since Swansea City first graced the First Division, the class of 2011 will venture into the glamour of the Premier League when they travel to Manchester City on Monday.
And what a tough act Brendan Rodgers and his men have to follow.
Between 1977 and 1981, Swansea had soared from the Fourth Division to the top tier of English football. But the best was yet to come as John Toshack's side confounded critics by finishing sixth in their first season in the First Division.
The list of victories that season would today alert match-fixing investigators, and not even the most optimistic of Swansea fans would dare suggest Rodgers' team can come close to emulating that success against the Premier League's opulent elite.
"It was an incredible journey - it was a magic carpet ride when they went right through from the Fourth Division to the First," said Rodgers.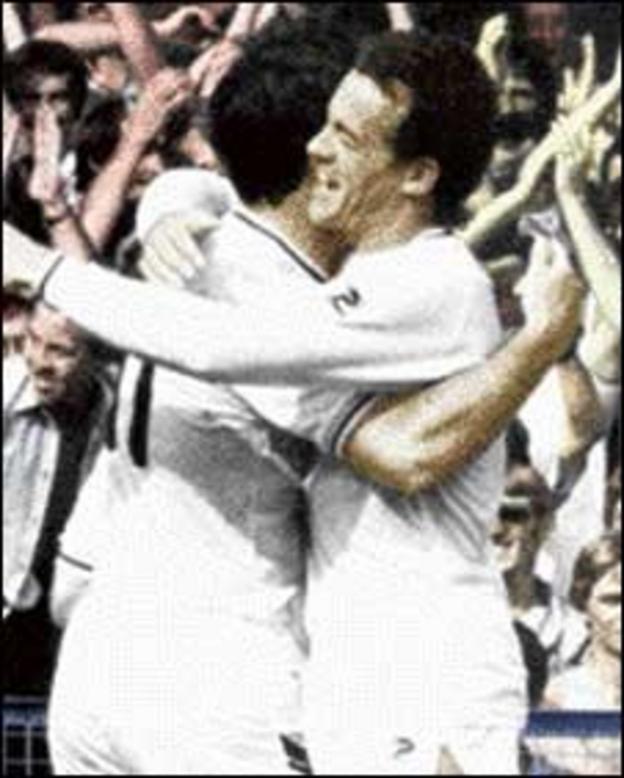 "This is a new era for the club. We hope we can do the badge and the country as a whole very proud. We'll fight for our life to try to compete in the league without giving away our soul as a club."
Something special had taken hold in Swansea in '81, and it started in spectacular fashion with a 5-1 demolition of Leeds United at the Vetch Field on the opening day of the season.
Debutant Bob Latchford scored a hat-trick, and local boy Alan Curtis rounded off a breathtaking afternoon with a superb solo effort against his former club.
Seven wins in their opening 10 games took Toshack's men to the top of the table, a position they held many times throughout the season and never once slipped outside the top six.
With six games to go, Swansea were genuine contenders for the greatest prize in English football.
A disastrous run of five defeats shattered those dreams, though, leaving them to settle for sixth as Liverpool were crowned champions.
"It's possibly the only opportunity Swansea will ever have to win the league," says Curtis, now first team coach at Swansea. "It could easily have happened that season.
"We beat Liverpool, who were European Cup champions; beat Aston Villa, who were the league champions; beat Spurs, who had won the FA Cup, beat Uefa Cup champions Ipswich Town, did the double over Arsenal and beat Manchester United.
"The list of names we beat is incredible really and it was almost like fantasy football."
So who were those Swansea heroes of 30 years ago? Curtis takes us through the starting 11 that shocked Leeds United and cemented their place in Swansea's folklore.
SWANSEA CITY v LEEDS UNITED, 29 August 1981
1. Dai Davies (1969-70, 74, 81-83)
"Dai was a bit of a surprise signing really but his biggest strength was his organisational skills. He unfortunately got a little bit of stick but it was completely unwarranted. He put in a few magnificent performances, I remember him picking up the man-of-the-match award when he went up to Anfield. He had great experience and was a bit of a character off the park as well."
2. Neil Robinson (1979-84)
He was our vegetarian in the side. A great athlete - he could play full-back or centre midfield and never stopped running. He was always the butt of a lot of jokes because if there were any club barbecues he couldn't join in because he didn't eat meat or fish. But a great character and I remember he loved his music - he would always be listening to his Walkman. He was a typical Scouser, great fun and an excellent player."
3. Dzemal "Jimmy" Hadziabdic (1980-1983)
"Jimmy was a defender but had as much ability on the ball as anyone in the club. He was a right-footed player playing on the left-hand side. He struck up a great relationship with Leighton James and they were almost telepathic at times. Great going forward, and with his broken English, he became quiet a character!"
4. Ante Rajkovic (1981-1984)
"Like Jimmy, Ante's great strength was the technical ability he had. He could easily have been a midfielder, but he was also very powerful and never seemed to be flustered. He loved the physical challenge, had terrific strength, but always tried to play his way out of trouble. He was a top-class defender."
5. Colin Irwin (1981-82) captain
"Unfortunately his time was blighted by injury, which eventually forced him to retire at a very early age. As you can imagine, anyone who came from Liverpool at that time was a fantastic footballer. He was one of our marquee signings for our first season in the First Division. He led by example and it's a shame his best years were probably in front of him."
6. John Mahoney (1979-83)
"He was perpetual motion really. John covered every inch and every blade of grass. His job was to win the ball and pass it on to other people - a job he did fantastically well. He was a huge character in the dressing and still is locally. It was a pleasure to have played with him."
7. Alan Curtis (1972-79, 80-83)
"My goal against Leeds is probably the one people remember. Everyone wants to play well against their former clubs and it was extra special being Swansea's first game in the First Division. It just opened up in front of me and I was fortunate enough to finish it off. I've always said, if the gates at the Vetch had been opened, I would have been down the Mubbles Road and never been seen again! The adrenaline from that game seemed to carry us through the rest of the season. They were great times, but it's for everyone now to look forward to life in the Premier League."
8. Robbie James (1974-83, 88-90)
"I've been asked a number times who was the best player I played with and the answer I give is always Robbie. His strength was his strength. He was a fantastic striker of a ball. I can still visualise him bursting down the touchline, normally down the right-hand side and whipping crosses in or taking shots at goal. Primarily played in midfield but could easily have played up front or at the back. Simply an outstanding player and probably one of the best this club has ever had."
9. Leighton James (1980-83)
"Leighton was the type of player every team wishes to have - he could pull a rabbit out of a hat. If we were struggling for goals or a little bit of inspiration then Leighton would usually provide it. He had fantastic ability and to this day I couldn't tell you if he was right or left footed. A great crosser of the ball and chipped in with crucial goals."
10. Jeremy Charles (1977-83)
"Jeremy was often ribbed for being known as the nephew of John Charles and the son of Mel. Everything that was ever wrote about Jeremy mentioned those two great players. Another one who could play in a number of different positions and got crucial goals. Not only did he get the first goal for Swansea in the First Division but he also scored the clinching goal against Preston which secured promotion the season before. He was certainly one of the biggest characters in the dressing room and great person to have at the club."
11. Bob Latchford (1981-84)
"In terms of pure goalscorers and wanting someone to lead the line, you couldn't ask for better than Bob. If he would be playing now, he's score a hat full of goals. He scored 40-odd goals for us in the two seasons in the First Division. Obviously the first season was the most successful one, but even when we struggled the following season he still managed to score goals. I look back with huge affection on his time at the club and his probably the best finishers I ever played with."