Inside the Chelsea camp with coach Steve Holland
By Stephan Shemilt
BBC Sport
Last updated on .From the section Football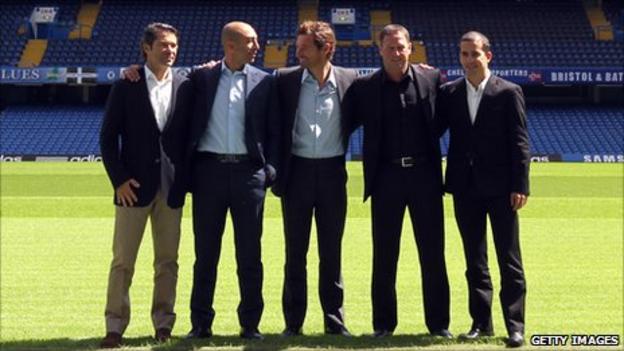 They are the sort of defiant words you'd expect from a manager whose side sit bottom of the table, with the pressure mounting and all around him looking nervously at the clock as the inevitable approaches.
"The easy thing to do is to hold the white flag out and quit but I am very determined to turn this around."
Later that day on 18 November 2008, just hours after his chin-up approach, Steve Holland was sacked as manager of League One Crewe Alexandra.
But this Saturday, three years after being sacked in the third tier of English football, he'll begin the new season as the only Englishman working on the backroom staff of Chelsea manager Andre Villas-Boas - one of the world's most high-profile and richest clubs. It is quite a leap.
"It's very exciting and I feel privileged to be in the role that I'm in," the 41-year-old said.
"I'm learning all the time and it's a great experience working with the players. Anybody in any walk of life wants to try to work at the top end of their industry and, working with the players I am at Chelsea, I feel very fortunate to be doing that."
Though his spell in charge of Crewe ultimately ended in failure, Holland left the Alexandra Stadium with his reputation as a coach intact.
Schooled by long-standing Alex boss Dario Gradi, Holland's role in the development of the likes of Danny Murphy, Dean Ashton and Seth Johnson was well documented and led to the man who had short spells as a player with Bury and Derby taking over as head of Stoke City's academy.
A move to Stamford Bridge followed in August 2009 and, after leading the Blues' second string to the Premier League reserves title last season, Holland was promoted to work with the first team on Villas-Boas's arrival in June.
A little over a month into his working relationship with the 33-year-old Portuguese, Holland has begun to see the methods that brought Villas-Boas four trophies in his only season in charge of Porto.
"Every element of every session is discussed and covered," said Holland. "He's very thorough in his preparation.
"He's a good man. He's very well organised with all of his work and a very driven individual.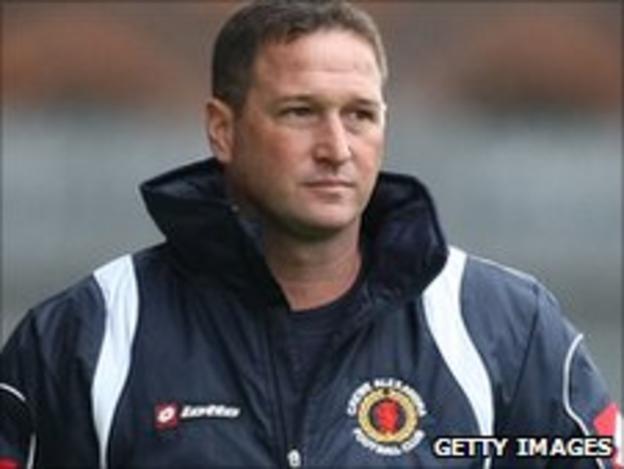 "Although he's relatively young he's had a fantastic career. He's a good man to work for and a very bright guy who will be very keen to make his mark in English football."
While Holland (little) and Villas-Boas (none) are bound by their lack of experience as players, it is the instant success that the former protege of Sir Bobby Robson and Jose Mourinho has enjoyed as a manager that sets him apart.
It is this factor that Holland believes has helped Villas-Boas win over a Chelsea dressing room which includes senior players such as John Terry, Frank Lampard and Didier Drogba, with the latter two the same age as the manager.
"In the end players have respect for the manager based on his knowledge and integrity as an individual," said Holland. "There's obviously no problems there."
Villas-Boas worked as opposition scout for Mourinho during the latter's period in charge at Stamford Bridge from 2004 until 2007 and went with him to Inter before leaving in 2009 to become manager of struggling Portuguese top-flight side Academica.
The two men are often compared, but do their teams have a similar style of play?
Mourinho, at Inter Milan in particular, enjoyed success built on the philosophy of strong defence and expected a high work ethic from his players, while Villas-Boas's Porto conceded only 16 goals in 30 games en route to the Primera Liga title. In six pre-season fixtures, Chelsea have conceded one goal.
"We have worked hard on the transitional element of our play," added Holland.
"When we lose the ball we are trying to regain possession as quickly as possible so we can get into defensive positions early. We have been working hard on that and we're trying to control the game with possession.
"We've played 4-3-3 and a couple of games where we've reverted to a diamond, so that won't be too dissimilar to what we've seen in previous years.
"The pressurising and the application of the players out of possession has been highlighted more in this pre-season than previously but, in the end, we have good quality players in every position."
So will the new Chelsea play with substance over style? Not according to Villas-Boas, who promised to "win with flair" on his arrival at Stamford Bridge.
Holland too knows a few things about attacking football - his mentor Gradi supposedly pays little attention to defensive training because "we'll score one more than them".
"Andre likes his football played with style and skill," said Holland.
"His Porto team of last year played their offensive football and scored lots of goals but also had a big emphasis on what they were doing out of possession as well and I think that will be no different here.
"We have lots of fantastic players and I'm sure they'll enjoy working in the system Andre sets up."