Franz Beckenbauer hails Mario Gotze as the new Lionel Messi
Last updated on .From the section Football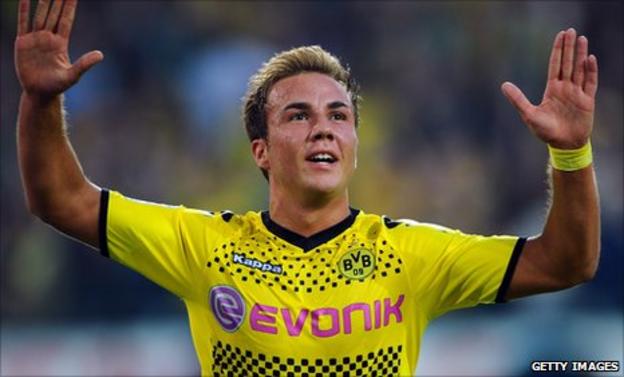 Germany legend Franz Beckenbauer believes his country have unearthed the next Lionel Messi in the form of Borussia Dortmund starlet Mario Gotze.
The 19-year-old is earning rave reviews ahead of his country's friendly with Brazil on Wednesday.
And Beckenbauer believes the midfielder has the skills to rival Argentina and Barcelona playmaker Messi.
"It is not possible to stop Mario Gotze," he said. "He has the same assets as Messi."
Gotze played a starring role in Borussia Dortmund's 3-1 win over Hamburg on Friday, their opening game in defence of the Bundesliga title.
He set up Kevin Grosskreutz for the first goal before adding the second with a deft chip.
His talents have already earned him six caps for the full national team, and Beckenbauer is excited by his country's latest prodigy.
"There is no one playing better than him," he said. "He runs through opponents as though they aren't there.
"He is an instinctive footballer, just like Messi."
Gotze is taking the lavish praise in his stride, but has admitted his new-found fame does have some difficulties.
"Of course, it is a great honour to get such praise," he said.
"I have learned I can no longer just do anything I want. Sometimes it sucks when you just want peace and quiet to do something normal like go to the cinema.
"People just see me as a footballer and want to ask me about it."
Dortmund midfielder Sven Bender, who is also in the squad to face Brazil, added: "He raises the standard of those around him, he controls the ball as though he has a magnet in his boot."