Stuart McCall forgiving over Ian Black's straight red
Last updated on .From the section Football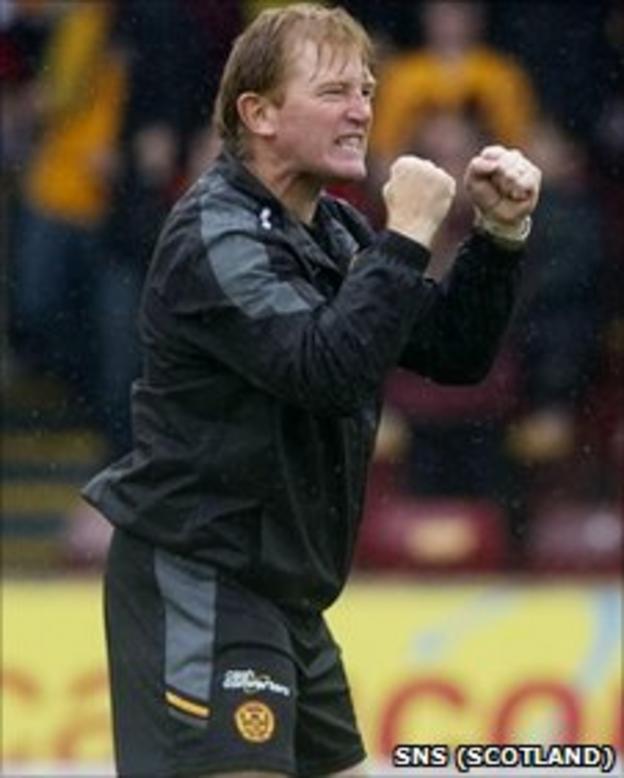 Motherwell boss Stuart McCall took a lenient view of the dismissed Ian Black's tackle on Keith Lasley after watching his side defeat 10-man Hearts.
"Having seen a replay, I think both players are committed and they both went in for the ball," McCall said after his side's 1-0 win at Fir Park.
"I don't think there is any malice at all from Black, I think Keith will say the same.
"Black has got there a split second late and it can look reckless."
Darryl Murphy scored the winning goal 10 minutes after Black was sent off by Steve O'Reilly for serious foul play.
"If he had got there a split second later it would have been a good 50-50, but in these conditions, if you go to ground in a sliding challenge, you have to get the ball," he said.
However, McCall was frustrated by Lasley's dismissal near the end after a second yellow card.
"Lasley was really disappointed about the second one," he said.
"At the end of the day, fouls are not always yellow cards.
"It is a free-kick. I can understand why the referee sent him off, but sometimes we have to realise that every free kick isn't a yellow card."
The former Rangers and Scotland midfielder played down his side's early lead in the Scottish Premier Leauge.
"It is a good start," he said. "It is obviously what we are looking for, but it's nothing more than that.
"We have to keep building on it and we look to the next game against St Mirren and nothing more.
"Hearts had the better chances in the first half, which came from us giving the ball away sloppily.
"Obviously the sending off had an impact on the game, but it was a little bit nervy at the end.
"If we could have got the second goal we would have killed them off, but I was delighted with the three points and the clean sheet."