Danish coach Morten Olsen focused on Euro qualifiers
Last updated on .From the section Football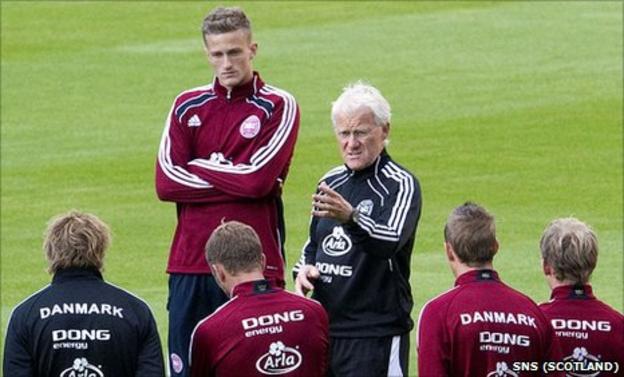 Denmark coach Morten Olsen insists he has one eye on a Euro 2012 qualifier when his side faces Scotland Wednesday's friendly at Hampden.
Olsen captained the Danish side which beat the Scots 1-0 in the 1986 World Cup, but is more concerned about reaching Poland and Ukraine.
"It is important to win against Norway," said Olsen.
"Of course there is a lot of prestige in the national game, we will try to win again, but we want to beat Norway."
Asked if he was surprised about Scotland's recent record against the Danes Olsen, who took over as Denmark coach in 2000, smiled as he replied: "It is difficult to beat Denmark. But we have to show that on Wednesday too.
"We are a small football country in the same situation as Scotland - we have probably been the better in the last years, we have qualified for a lot of tournaments.
"But I have seen the Scottish squad, there are a lot of players in the Premier League or the Championship or playing for Celtic and Rangers, so they are in a good way."
Also defended the timing of Wednesday's match, although Arsenal's Danish striker Nicklas Bendtner has described the scheduling as "crazy", with the Premier League in England starting its new term on Saturday.
"For both teams it is an important game because we both have games in September," said Olsen.
"I can understand clubs (being upset). The Premier League is starting but the national team also wants a test."
England manager Fabio Capello has also expressed misgivings about Wednesday's round of international friendlies, with Capello's men taking on the Netherlands.
But Olsen sees the trip to Hampden as important preparation for the resumption of Denmark's Euro 2012 qualifying campaign.
"It is difficult to go into a qualification game with too many questions because you have to win," added Olsen.
"So I hope I will get the answers to the questions that I have on Wednesday.
"I know Scotland have to win here at Hampden against the Czech Republic and Lithuania.
"We have a vital game against Norway and we have not had a game for two months but now we are together again and so the game is very important.
"There are a lot of new guys (in the Danish squad) and they are the future."