Dundee fans vote on whether to accept new investment
By Jim Spence
BBC Scotland
Last updated on .From the section Football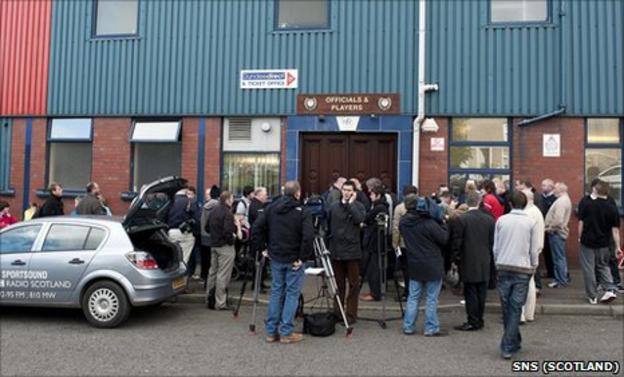 Dundee fans are to vote on whether to remain as majority shareholders in the club, or accept new investment which could dilute that majority shareholding.
The Dundee F.C. Supporters' Society, representing four thousand five hundred fan, currently own 52.5% of the shares in the club.
However, additional funding from potential investors could see that majority shareholding threatened, depending on the amount of money tabled and the price shares are offered at.
At a meeting of the fans before next Saturday's first home league game against Ayr United, the supporters will debate the issue, before a postal vote to decide the matter is held in the coming weeks.
Supporters will be asked to vote yes or no to the following resolution.
"Dundee FC supporters must remain the club's majority shareholders, and the shares held by Dundee FC Supporters Society Ltd, must not drop below 50.01% of the issued share capital in The Dundee Football club Ltd."
The Society chairman Scott Glenday said: "We have said repeatedly that financial sustainability is the most important consideration to how Dundee FC will be run in future, and we will spend only what we can generate ourselves.
"We have also said that it is not in the best interests of Dundee FC to be dependent on a single benefactor and that remains the case.
"What we are asking fans to decide on is the circumstances in which we can accept external funding in order to realise our ambitions on and off the park.
"As it was the supporters who saved the club they deserve nothing less than transparency and the chance to decide on the future direction and make up of their club.
"Obviously, in order to grow and prosper as a club, continued external funding would be of great benefit but it is for the fans to decide on how we will go forward."