Henrik Larsson didn't see Neil Lennon as Celtic manager

By Chick Young
BBC Scotland football pundit
Last updated on .From the section Football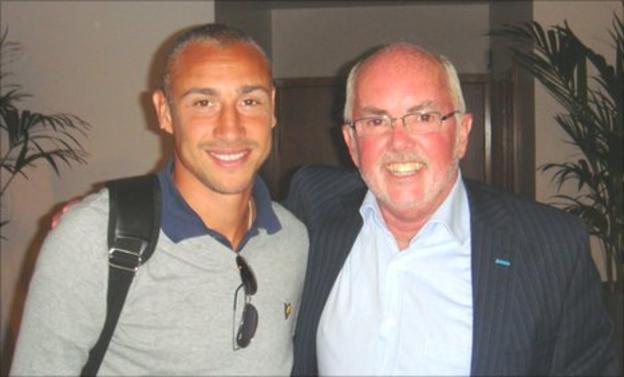 Celtic legend Henrik Larsson freely admits he failed to spot Neil Lennon as a future manager of the club.
On his return to Glasgow to participate in what has now become an annual event - the "legends" match - the former Parkhead goal hero also says he will always be dogged about a possible return to take the helm at his former club.
"I have now doubt that Neil will be a success," said Larsson.
"Neil was a very clever player and I have only heard good things about him as a gaffer, but if you had told me back in 2003 that one member of our team would one day be the manager of Celtic then I wouldn't have chosen Lenny.
"Paul Lambert would have been the one - I would have put my money on him - he always wanted to be a coach.
"They tell me he has turned into Martin O'Neill - that cannot be a bad thing."
"Unfortunately, I will never be able to stop people talking about me coming back to manage Celtic, but I have my friends Neil, Alan Thompson and Johann Mjallby doing a great job for Celtic."
Larsson is now coach at Swedish Second Division side Landskrona, and the dedicated Celtic fans who would want to spirit him back as manager might want to take a look at his club's current form, as it's not going too well.
But the Swede still gets dewy-eyed about his time at Celtic, and freely admits there was pressure in his last year at the club.
"It started actually before that," said Larrson. "Suddenly, if I didn't score in two games then they said I was finished.
"I wanted to finish on a high. I had decided that it was going to be my last season in Glasgow despite pressure on me to stay because I was going home to Sweden.
"But then Barcelona came from nowhere. Of course there was pressure on me, but that's Glasgow for you - I came to enjoy it."
The Swedish superstar was adored by the Celtic support and at times his high profile life made his daily existence diffiicult.
"I was doing the thing I wanted to do most, play football and living in a very nice city," said Larsson. "But of course there is pressure on you because you have to play at your best form every single week and sometimes twice a week.
"It became expected that I just had to score all the time."
It is eight years now since Celtic lost the Uefa Cup final to Porto, but Larsson still has nightmares about that hot night in Seville. He scored twice, but Martin O'Neill's side still lost to Jose Mourinho's team.
As I asked him about his memories he pointed to his arm and when I asked why he said: "Because I still get goosebumps about it. To get two goals in the final and not win does not seem possible.
"We deserved to win it, we were the better team.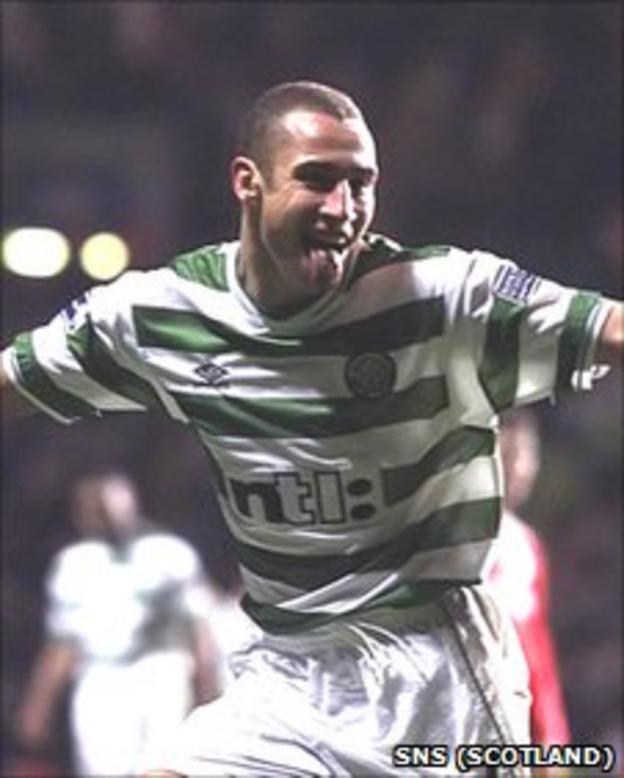 "It was something we wanted so badly - we had beaten so many good teams during the run and there were so many Celtic fans down there in Spain.
"It had been so long since the European Cup win and we were desperate to win that trophy. So I do not remember that day with much fondness at all."
I can remember interviewing Larsson on the pitch for BBC television immediately after the final whistle and he seemed so distant, so shattered. He was brutally honest about his disappointment.
"We should never have lost the game," he said. "I still do not understand to this day how we lost it - but that's history - you cannot change it, but it is a bitter memory."
But Seville was a rare low in the remarkable career of one of the greatest players ever to grace the Scottish game.
"The run to the final, all the league titles all the cups, stopping Rangers from ten in a row…all special. It was a good thing that we new players at the time had no conception of how important it was to win that league for Celtic. It was a very good thing that we were not aware of the presssure!"
He played under several managers at Celtic but will always have a special relationship with two; Wim Jansen and O'Neill.
"I will always be grateful to Wim - he was the one who brought me to Celtic. He was the man who helped me get my career back on the track.
"But Martin steadied the ship and took us to so many trophies."