Everton hit by Seamus Coleman ankle injury
Last updated on .From the section Football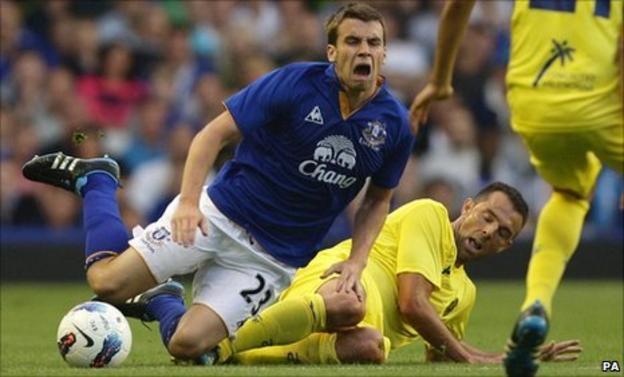 Everton's Seamus Coleman faces a lengthy lay-off after scans revealed he has suffered ankle ligament damage.
The Republic of Ireland player was caught by Carlos Marchena during Friday's friendly against Villarreal - and scans have confirmed the injury.
"Seamus has torn the lateral ligament in his right ankle. He will visit a specialist in London this week," said Everton Head physio Danny Donachie.
Mikel Arteta has a foot injury and may also miss Saturday's trip to Tottenham.
However doubts hang over whether the game will be played given the rioting in the streets of London this week, with Tottenham one of the areas targeted.
Arteta's lay-off is expected to be short-term but Coleman, 22, may be sidelined for months if his injury proves to be as serious as feared.
Coleman, Everton's young player of the year last season, was already suspended for the opening two games of the new campaign after a red card against Chelsea on the final day of last season.
Meanwhile, Everton striker Louis Saha has revealed he considered retiring from football last season after damaging his ankle in March.
The forward was Everton's top scorer when he was ruled out for the season but the Frenchman is confident mood ahead of the opener at Spurs.
"Retiring crossed my mind when I had my injury. It was hard to take but now I'm confident and relaxed," said Saha.
"I want to be a better player, I want to score more goals, enjoy it more, get a better relationship with the fans and the club. I think I've got so many things to give to football again.
"I love the game so much and feel privileged to be a footballer."