Administrators go to court to get Plymouth Argyle cash
Last updated on .From the section Football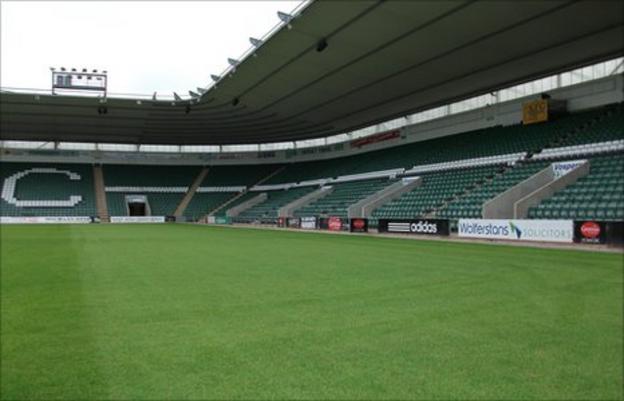 The joint administrators of Plymouth Argyle are taking the company hoping to buy the club's Home Park to court.
The administrators say they want Bishop International Limited to pay £230,000 'immediately' in order to pay staff and player wages for August.
"We're uncomfortable with the situation where they're working and we don't have the money to pay them," joint administrator Brendan Guilfoyle said.
"They'll be in a position to complete the deal next week."
Guilfoyle told BBC Radio Devon last week that a deal should be completed some time this week.
BIL want to buy Home Park and the land surrounding it in a deal that would pay off Argyle's debts.
Once that happens Peter Ridsdale will take over the club.
Guilfoyle says he shares the frustration of supporters who are being faced with repeated delays over a deal: "I have no appetite for trading the club in the season but through force of circumstances we've been forced to."
And he says even if the money was there, the Football League have yet to complete their due diligence over the takeover, and until that happens the new owners will not be able to take control of the club.
"There's a number of matters that need finalising, not the least the Football League's consent to transfer the share.
"Even if the money was there currently completion can't take place," Guilfoyle said.