Fifa bans referees for life for match-fixing
Last updated on .From the section Football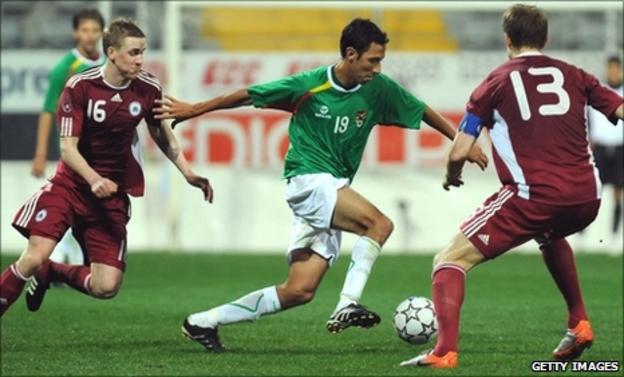 Football's world governing body Fifa has banned six referees for life after finding them guilty of match-fixing in a tournament where all the goals scored were from penalties.
Charges were brought against the officials, from Hungary and Bosnia, after two friendly matches in Turkey.
Latvia against Bolivia then Estonia versus Bulgaria produced seven goals between them.
The Hungarian referees are being held by police in their country.
Authorities are investigating further the match-fixing accusations levelled at Kolos Lengyel, Krisztian Selmeczi and Janos Csak, while the Bosnian officials - Sinisa Zrnic, Kenan Bajramovic and Rizah Ridalovic - denied the charges at the hearing, but were found guilty.
The two international friendlies were fixed for a betting scam, which has become an important case as football's world governing body attempts to up its fight against match-fixing.
Crime syndicates are believed to have made millions of pounds betting on the fixed matches, including wagers that at least three goals would be scored in each fixture. Latvia beat Bolivia 2-1 and Estonia and Bulgaria played out a 2-2 draw.
The officials were found guilty of "passive corruption" and "unlawfully influencing match results" by Fifa's disciplinary committee.
Another senior football figure has also been banned by Fifa, for a year, in the fall-out to the bribery scandal.
Lisle Austin, from Barbados, was punished after he went to court in the Bahamas to try to force through his claim to succeed Jack Warner as president of the Concacaf federation, the body which governs football in the Caribbean.
Austin was initially made acting president when Warner was suspended on bribery charges, but was himself suspended by Concacaf when he tried to sack Chuck Blazer, the organisation's general secretary who exposed that cash gifts had been in use.