Rangers visited by sheriff officers over tax payment
By Chris McLaughlin
BBC Scotland
Last updated on .From the section Football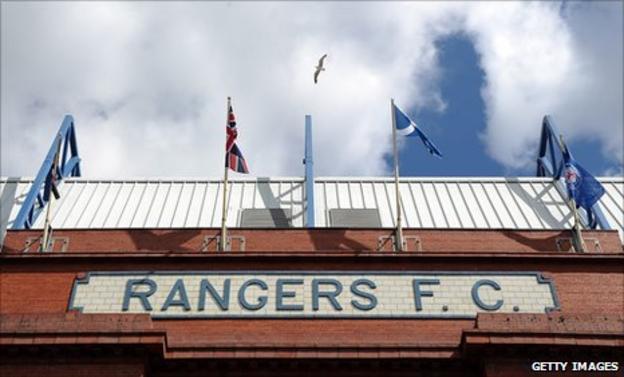 Sheriff Officers have visited Ibrox as Rangers' tax dispute with Her Majesty's Revenue and Customs continues.
The officers served papers as part of the process of payment.
Rangers face a bill of £2.8m which they are willing to pay, but the club dispute a fine that comes with it of about £1.4m.
A Rangers spokesman said: "This is a historical issue which the new Rangers FC majority shareholder inherited and has dealt with diligently."
"RFC has been in detailed discussions with HMRC over a tax liability that was revealed during due diligence prior to the takeover of the club by a new majority shareholder earlier this year.
"That liability was the subject of widespread publicity at the time of the publication of the club's annual report.
"Meetings have been held with representatives from HMRC this week and are ongoing and we have reached outline agreement with HMRC.
"Discussions today dealt with formalities of progressing the matter further.
"We are utterly dismayed that there are people who have been involved in this process who think it right to conduct normally confidential business discussions in public.
"They clearly would not do that with other businesses but think it all right with Rangers."