Kenya minister sets deadline for football elections
Last updated on .From the section Football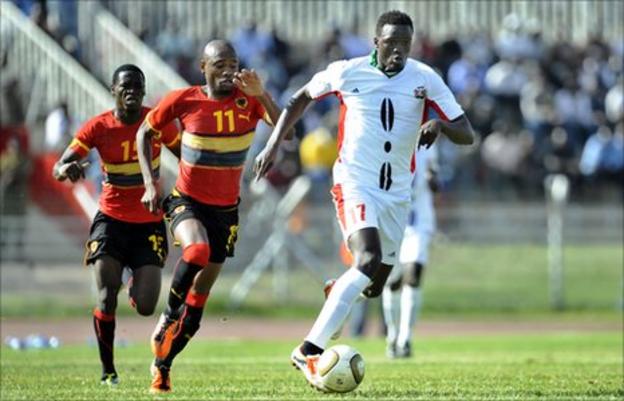 Kenya's sports minister has said government will take over if polls for the country's football administration are not held by 10 September.
Paul Otuoma has said that he fully understands that such a move could lead to an international ban by football's world governing body, Fifa.
He was reacting to the postponement of this weekend's planned elections.
His ultimatum came after a meeting on Thursday with the Fifa-appointed Independent Electoral Board (IEB).
The elections are aimed at healing the ongoing rift in the organisation of football in Kenya.
The IEB said on Wednesday that at present it cannot afford to fund the vote, which was due to take place on Saturday.
"The IEB are appointees of Fifa and if they don't give a satisfactory answer then we have no choice," the minister said.
The IEB claims that another body, the Kenyan Independent Electoral Commission (IEC), was supposed to provide it with a budget - but the minister said key elements of the planned poll were not in place yet.
"There is no list of voters [and] there is no list of candidates, so we cannot talk about the IEC refusing to conduct football elections," Otuoma said.
On Wednesday the minister condemned the role of the Confederation of African Football (Caf) in the continuing troubles facing football in Kenya.
"Where is Caf in this thing?" the minister asked.
"Caf is supposed to be our intermediary between African countries and Fifa, yet Caf is not there."
If the Kenyan government does take over the running of the elections Fifa could see this as political interference in the sport and that could lead to an exclusion from all levels of the game internationally.
The dispute over who runs football in Kenya has gone on for years and has left the country languishing at 130 in the world rankings - below Luxembourg, Haiti and Thailand.