Tottenham v Everton postponed but rest of Premier League on
Last updated on .From the section Football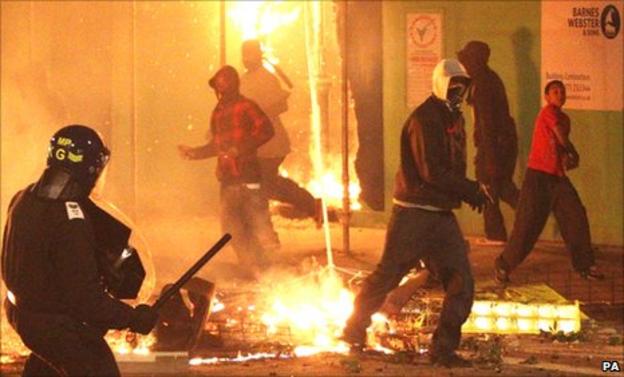 Tottenham's match with Everton on Saturday has been postponed because of the week's riots, but all other Premier League matches will go ahead as normal.
The nine remaining games will kick off at their scheduled times, despite Prime Minister David Cameron suggesting games in London could start earlier than scheduled to assist the police.
Cheltenham's match against Swindon was postponed but reinstated after talks.
Civil unrest began in Tottenham last weekend and spread across the country.
"The Premier League has worked closely with the authorities and London-based clubs throughout the recent civil unrest to ensure matches are staged in accordance with supporter safety," read a Premier League statement.
"While all efforts were made to try and facilitate the Tottenham Hotspur v Everton match by the Metropolitan Police and the local authority, the situation on the Tottenham High Road proved too difficult to overcome."
Fulham play Aston Villa at Craven Cottage and QPR play Bolton at Loftus Road in the only other opening-round Premier League games in London.
Both matches are scheduled to kick off at 1500 BST on Saturday, although Mr Cameron initially raised the prospect of altering start times.
"Other games in London should go ahead, but perhaps starting earlier in the day," said Cameron, adding that it was up to "the Premier League and the police" to make the decision.
Premier League chief Scudamore said the authorities would have a "clear picture" of the top-flight plan for the weekend at 1800 BST on Thursday.
Tottenham released a statement on their official website explaining that the match had been postponed because of "safety concerns relating to the infrastructure of the High Road and access to the stadium caused by last Saturday's riots".
Everton's Australian midfielder Tim Cahill, who has lived in England for 14 years, has backed the decision.
"This is my family home, football will always be here and England should be proud of that," he said.
"The main thing is to make sure the local communities feel safe, and I feel the call for calm is just trying to make help people understand that rioting is not the way forward."
Cheltenham v Swindon is the only Football League fixture postponed to date, with Gloucestershire police having "insufficient resources to police the match", according to the Robins' website.
The riots first flared on Saturday after a peaceful protest in Tottenham over the fatal shooting of Mark Duggan, 29, by police.
They soon spread across London and to other parts of the country, forcing police to call off England's friendly against the Netherlands at Wembley on Wednesday, along with Carling Cup matches.