Spanish players' strike still likely after latest talks
Last updated on .From the section Football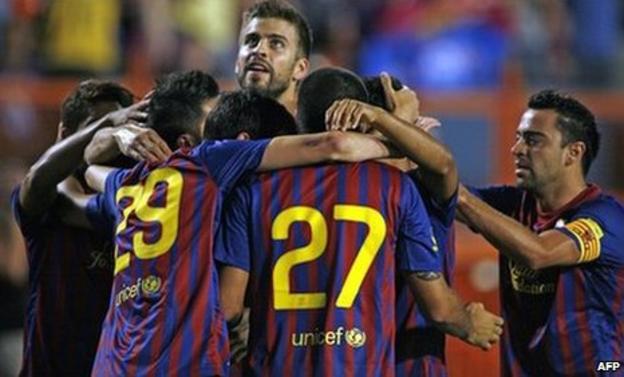 The start of the Spanish league season looks likely to be delayed after the players' union and the league failed to agree a deal to avert a strike.
Players want a guaranteed wage fund where they would be paid even if their clubs become insolvent.
Six Spanish top-flight clubs are currently in bankruptcy protection.
League President Jose Luis Astiazaran said: "We've achieved a lot lately but it will be impossible to avoid a strike."
The top division, La Liga, is set to start on the weekend of 20-21 August.
Last season a proposed strike was called off after players protested about the distribution of television money.
Second-tier club Hercules have struggled to pay some of their players recently, while Real Zaragoza applied for administration in the summer.
The AFE say that 200 players are owed money by clubs, with a total of £44m outstanding.
One of the players involved is French defender Noe Pamarot, who moved in pre-season from Hercules to Granada. He said: I feel like I've been cheated because they [Hercules] promised something they can't do."
New legislation expected to pass in September will see clubs immediately relegated to the third division if they become insolvent.
Luis Gil, representative for the Association of Spanish Football Players (AFE) said: "The league does not want to bridge the gap. In this moment the AFE has no intention of extending the strike beyond the second round of games. But clubs who do not pay should be relegated."
Astiazaran responded by saying there are "big differences" between the two sides, but he added: "We have to move forward. We've reached breaking point. We can't give more than what we have.
"It's a shame since we agree on 80% of the issues but because of 20% we find ourselves in this situation."
The two sides will meet for more talks on Friday in a bid to prevent a first strike in the Spanish league since 1984.
Champions Barcelona are scheduled to begin their defence of the title away at Malaga on Sunday 21 August, while Real Madrid host Athletic Bilbao.
Villarreal, who face Pep Guardiola's Barca side in the second round of matches, also have to contend with a Champions League qualifier against Danish side Odense either side of the opening weekend.