At the drop of a hat
By Farayi Mungazi
BBC Sport
Last updated on .From the section Football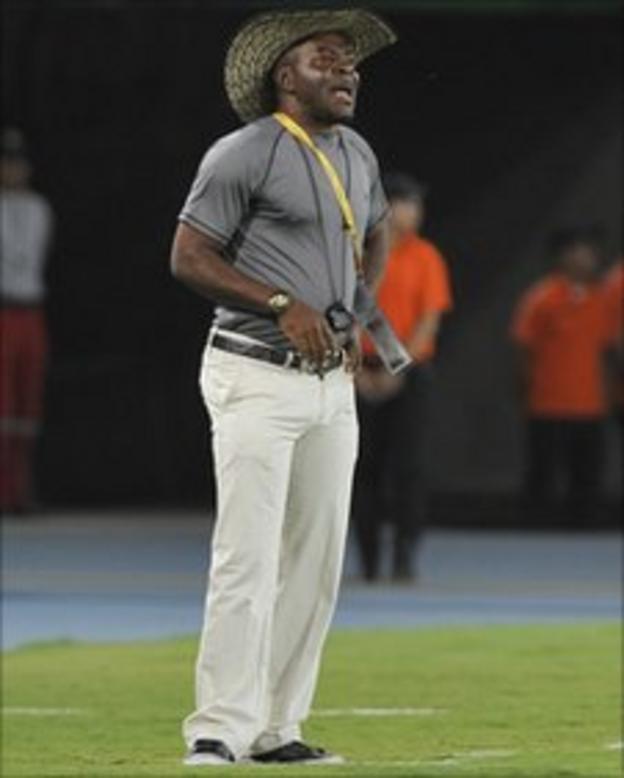 Just like clothes, hats can make bold fashion statements.
John Obuh is a man accustomed to different kinds of head gear - from traditional hats to baseball caps.
But the Nigeria under-20 coach's hat collection hit new heights on Wednesday at the U20 World Cup in Colombia.
He patrolled the touchline decked in a strange Mexican sombrero-like hat as his side downed England to move into the quarter-finals.
The traditional Colombian Vueltiao sombrero definitely stole some of the Flying Eagles' thunder as they made it four wins out of four.
The hat won him the man-of-the-match award with television viewers and one commentator, who thought it was good enought to win a prize.
Some fans then tried in vain to make #JohnObuhHatCam a trending topic on the social networking site Twitter.
I also got caught up in the excitement and tweeted: "Nigeria coach John Obuh wearing the coolest hat you will ever see at a football match!"
Tom Legg concurred: "He's got my vote, amazing hat. Have you ever seen a coach pull off a hat on the touchline like John Obuh's doing right now?"
Another Twitter user Ekene Val Ekechukwu was very impressed: "That guy's hat, wicked!"
Obuh told BBC Sport that the hat was given to him by the local governor in Armenia, Nigeria's base since the start of the tournament.
"I put on the hat as a way of thanking the people of Armenia for their support and kindness during our stay," Obuh said.
He added that a similar hat, made from soft cane and worn in the past by Pope John Paul II and US President Bill Clinton, showcased his style and individuality.
"I love hats and I like them fashionable; I like something different and stylish," Obuh said.
"In my job I have to put on the best I can just people going to church; the football pitch is my church."
But Obuh declined to say whether the hat would make another appearance during Nigeria's quarter-final clash with France on Sunday.
"Just be patient and see what happens."