Plymouth Argyle staff and players defer wages once more
Last updated on .From the section Football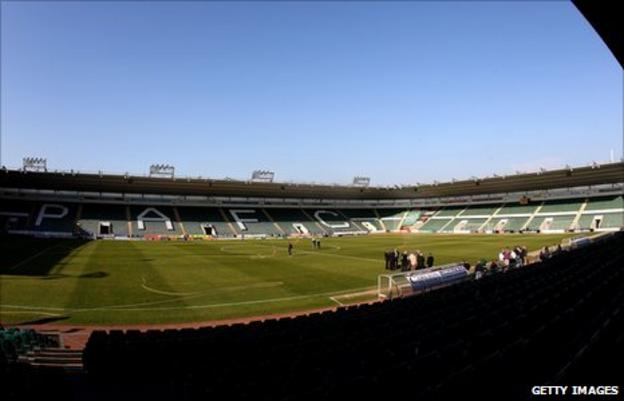 Staff and players at Plymouth Argyle are set to forego their wages once again in a bid to secure the future of the League Two club.
The club's joint administrator Brendan Guilfoyle said they will again sign deferral documents relating to their pay which is due on 28 August.
But should the deal with preferred bidder Bishop International go ahead all wages will be paid.
The Argyle players have not been paid in full since the start of the year.
Office staff at Home Park have only received one full wage packet on time since January.
Guilfoyle told BBC Spotlight he has been "assured that the money to complete the deal will be available next week."
On Wednesday he took preferred bidders Bishop International Ltd to court trying to get an order forcing them to pay the wages - totalling around £230,000.
But the case was lost and Guilfoyle now says Bishop International has "absolutely assured" him that the deal is still on.
The proposed deal will see them buy Home Park and the land around it as well as see Peter Ridsdale become the new owner.
There has been no comment from Bishop International's representative Kevin Heaney and the deal is also reliant on approval from the Football League - because Heaney is chairman of Truro City FC - which has not be forthcoming so far.
The exclusive contract allowing Bishop International to take control of the club was due to run out on Friday 12 August.
But Guilfoyle says he is "well disposed" to giving them extra time as he is being assured that "reasonable progress" is being made.
The staff agreed to the deferral after being given assurances from Ridsdale that a purchase is imminent.