Gareth Taylor's hopes after troubled summer at Wrexham
By Aled Williams
BBC Sport Wales
Last updated on .From the section Football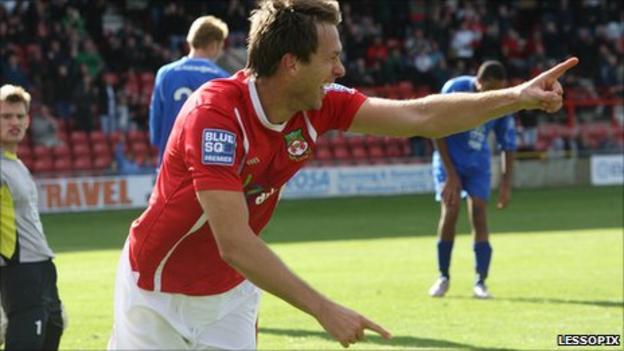 It has been a pre-season like no other for those associated with Wrexham Football Club.
Two pre-season matches were called off whilst the threat of expulsion from the Blue Square Bet Premier loomed large.
But now the future of Wales' oldest professional football club looks brighter.
Glyndwr University has purchased the historic Racecourse ground and the Colliers Park training complex.
The Football Conference has finally given the club the green light to start the season after seeking financial assurances.
And Wrexham Supporters Trust is currently in negotiations to buy the club.
"We've had, obviously, a couple of tough weeks in terms of our pre season," said striker Gareth Taylor.
"It's never nice for the players if they're not getting paid.
"But I think it's united everyone and brought us all together and I think that will help us in the future."
It was thanks to the efforts of supporters the club were finally given the go-ahead to begin their season at home to Cambridge United.
Fans raised £140,000 towards a £250,000 bond required by the league to keep the club in the Blue Square Bet Premier.
And former Manchester City and Sheffield United player Taylor has paid tribute to their efforts.
"We realise we owe the supporters, there's no doubt about that," Taylor said.
"If it hadn't been for them, then who knows what might have happened? The supporters and what they've done has been incredible.
"I just hope it makes an impression on the players like it has on me and the rest of the staff. We know the supporters are behind us and we want to repay that."
Taylor is a former Welsh international team-mate of Wrexham boss Dean Saunders.
He believes former Liverpool and Aston Villa player Saunders has been the calming influence who has held the squad together during the past few weeks.
"There's no more passionate fella than Dean," said Taylor, who also had spells with Nottingham Forest and Burnley.
"He really is a guy who gives everything, sometimes to the point where he can't put the ball away.
"I certainly imagine other managers in that situation probably thinking 'we don't need this.'
"Dean's one of those people who doesn't need this. He doesn't really need the hassle.
"But because he's got such a love of the club and he can see we are on to a good thing here now we've got the supporters rallying around, I think he obviously thinks 'come on let's pull our fingers out here and do something.'"
The Dragons reached the Blue Square Bet Premier play-offs last season, where they lost to Luton over two legs in the semi final.
And despite a pre-season of turmoil, Taylor is confident the north Wales side can mount a promotion challenge again.
"You gear up all season waiting for the first game and we're no different," said Taylor.
"We are really looking forward to it now. I think we've made improvements in the close season
"[The] minimum requirement needs to be the play-offs," said Taylor.
"If we can achieve what we did last season and get into that situation again and hopefully do better then that's got to be viewed as a success.
"But it's not any easy league. It's full of teams who have big aspirations in getting promotion and big budgets.
"We've got all that to battle against but that sort of mentality we've had and what's happened over the last few weeks might not be a bad thing."
Despite being 38, Taylor is keen to extend his playing career with Wrexham, where he has been for the past two seasons.
"I've not actually signed anything at the moment so I'm here for free," he said.
"I'm hoping to get something down on paper in the next couple of days. I just wanted to come back and be involved in things.
"It's great for me getting fit and being with the lads and Dean's given me an opportunity to coach over the last couple of seasons.
"I've basically been here trying to galvanize everyone together.
"I'm looking forward to being part of this season and being part of the success."