Fifa to probe Caribbean officials in bribery scandal
Last updated on .From the section Football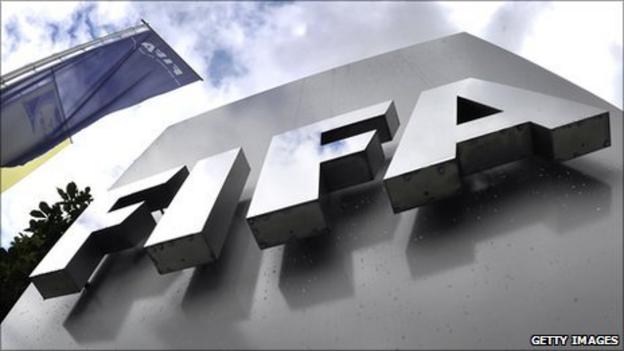 Fifa has asked its ethics committee to investigate 16 Caribbean football leaders in connection with the bribery scandal involving ex-presidential candidate Mohamed bin Hammam.
The senior officials are suspected of taking cash bribes to back Bin Hammam in Fifa's presidential election.
They are also accused of denying the corruption attempt to investigators.
Bin Hammam was found guilty of trying to buy votes last month, but is waiting to appeal.
Football's governing body says the suspects include Colin Klass of Guyana, a long-standing ally of former Caribbean football official Jack Warner.
Mr Klass has been provisionally suspended from all football-related activities by Fifa's Ethics Committee "after consideration of specific information received on the matter", said the organisation.
Also on the list is Mark Bob Forde from Barbados, who was a Fifa referee for international matches for two decades, and Yves Jean-Bart, head of the Haitian football federation.
Blatter pledge
The 16 officials, from 11 different countries, will be interviewed by former FBI director Louis Freeh's team and Fifa says more cases could follow.
The new investigation comes a day after Fifa handed lifetime bans to six international referees from Hungary and Bosnia, after finding them guilty of match-fixing.
The BBC's Imogen Foulkes says Thursday's announcement will be a blow to footballing nations in the Caribbean, as they prepare to play World Cup qualifying matches in the coming months.
Fifa's president, Sepp Blatter, was re-elected in June after a single-candidate vote. The English and Scottish Football Associations had called for the vote to be postponed but failed to win enough support for the measure.
Mr Blatter promised to "put Fifa's ship back on the right course in clear, transparent waters" and his supporters say the new probe is honouring that pledge.
But his critics say he has simply been forced by circumstances to address a problem that has been endemic in football for years, says our correspondent.