Roberts ready for big kick-off with 606
By Jason Roberts
Blackburn Rovers striker and BBC 606 Host
Last updated on .From the section Football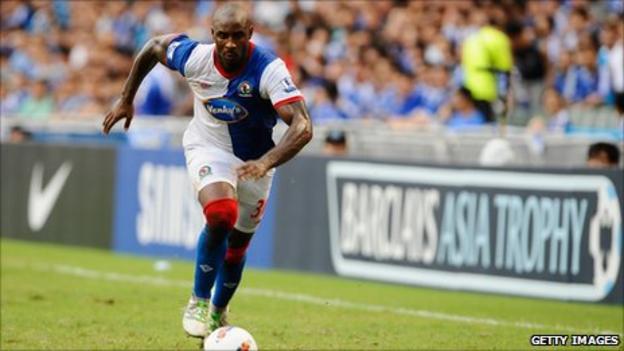 I am looking forward to two things about the new season starting on Saturday - Blackburn's first game of the season against Wolves and my debut as presenter of 606 a short while after the final whistle.
Each week, depending on where we are playing, I will be heading for the nearest BBC radio station and hosting the show from there, so sometimes it might be a case of dashing straight out of the shower to get on air.
I am really excited about joining 606. I love the debate and the passion you get on the show and I am ready for anything the fans can throw at me.
I've done lots of commentary and punditry but I've not interacted with people in this way before, so it will be a new experience and I cannot wait.
The same goes for getting back into action on the pitch. People seem to be writing Rovers off already, but I have a feeling we might surprise a few.
Being tipped to go down is not a problem for me, or the other players. It happened last season too and obviously we made sure it did not happen!
It is strange to be starting against Wolves after finishing last season in such a dramatic way at Molineux.
That was one of the biggest games I have ever played in. At the end all the players from both sides were hugging and kissing each other, because we won but both teams stayed up, but this will be a very different day.
We have to get back to business and it is a vital match because our home form is important to us, and also because of who we are playing - it is the sort of game both teams will be looking to get something out of.
Over the summer we have seen Phil Jones leave for Manchester United but I am still confident about the strength of our squad, which has got a strong core of senior players and some promising youngsters.
Look at Junior Hoilett - the strides he has made in the last year have been unbelievable. And it's not just him, because players like Martin Olsson, Ruben Rochina and Steven N'Zonzi are improving all the time too.
One of the key things for the senior players to do is to help them along and I feel I am a part of that, and I am really excited about what we can achieve.
Our new players fit into that mould too. David Goodwillie is only 22 and he has a lot to learn but he is quick and has an eye for goal.
Not a lot of other Premier League clubs have the same amount of young talent coming through and what we need to do is supplement that with some experienced players who have played in the Premier League before, but I am sure that is going to be the case.
Of course there is speculation about people leaving too, like Chris Samba. If any deal were to happen, and I hope it doesn't, then the end result has to improve the squad. You are always going to lose players but can you replace them?
In general, I think the Premier League is going to be tight at the top - and at the bottom.
It's easy to predict the newly-promoted sides to struggle but I know from when I came up with Wigan in 2005 that it is possible for unfancied teams to survive.
Because they have just come up, we don't know how Swansea, QPR and Norwich are going to perform. But what those clubs have at the start of the season is a winning habit from their previous campaign.
Clearly it is harder in the top flight and the opposition is of a higher quality but if you have a good team spirit you have a chance.
At the top, you have to admire Manchester United. They just do not stop attacking and, against Manchester City in the Community Shield, their pace and power was intimidating to watch.
They have a winning mentality and you cannot put a price on that. I think they will win the title but Chelsea or City could push them all the way.
Andre Villas-Boas has inherited a phenomenal squad and I'm still convinced it is just a matter of time before Fernando Torres clicks again. Once he does, they will have an attack line as good as any in Europe.
City have a different approach to the other top teams, with their emphasis on power, but once they get going they are difficult to play against.
With Arsenal, I am surprised to see that Cesc Fabregas and Samir Nasri are leaving because they are two of their better players.
But Arsene Wenger has done a fantastic job in his time with the Gunners and he has had to do it under financial constraints. For me, he and the club fit in the way he goes about his business.
But as someone who enjoys watching Arsenal play, I am interested in what his next plans are because I am sure he does have a plan. Maybe we can all talk about it on the show on Saturday.