Ballymena manager Roy Walker adopting positive attitude
Last updated on .From the section Football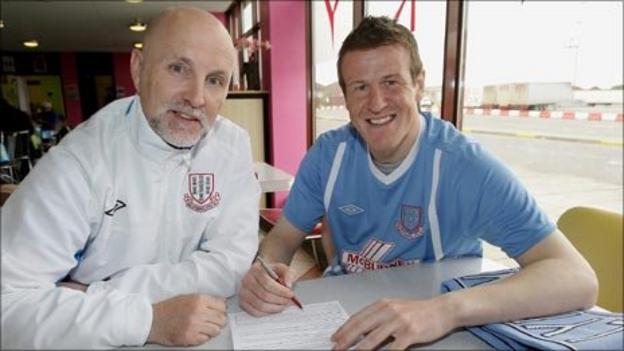 Ballymena United manager Roy Walker has been instilling belief into his much-changed Ballymena United side.
The Sky Blues lie top of the table after just one match following last week's 4-1 win over Lisburn Distillery.
"We've been trying to highlight what we think the players are good at so they know what they are capable of, and also know their limitations," said Walker.
"We have some notes pinned up in the dressing room so that each player knows his role and responsibilities."
"It's not rocket science, it's just a way of reminding individual players what the requirements are and what is expected of them."
The Sky Blues have not won a trophy since their Irish Cup success in 1989 but optimism is already spreading across the Braid after some free-scoring victories in pre-season and that convincing opening day success over the Whites.
"We have been very positive throughout pre-season and have adopted a simple policy of working hard and training hard.
"I'm telling the players that they don't have anything to prove to me - I brought them to the club because I could see good attributes in them and they just need to relax.
"They are very decent players, who work hard, and showed a willingness to come to us - they maybe just need to be appreciated a little and have someone put an arm round their shoulder.
"They are not getting carried away but are willing to listen and learn, and there's good cameraderie in the camp."
United will be without suspended defender Tony Kane and injured midfielder Gavin Taggart for the visit of Glenavon on Saturday.
Goalkeeper Dwayne Nelson is struggling with a thigh strain and Conor Downey is doubtful.
The addition to the squad this week of Denver Gage, Aaron Black, Aaron Boyd and Curtis Woods shows the increased competition for places at the Showgrounds this season.
"I had very few selection issues to consider at the end of last season but that has changed for the better now.
"Our front four have all been scoring goals and that is really encouraging too."
Walker believes highly-rated Scottish midfielder Allan Jenkins will make a particular impact on the Premiership this season.
"Allan is a fine professional who is also good to have in the dressing room," explained the Ballymena boss.
"He comes with a good pedigree and I believe he will score goals from midfield this season - it's my belief that the whole league will benefit from having him as a part of it."