Chelsea 2-1 West Brom
By Saj Chowdhury
BBC Sport
Last updated on .From the section Football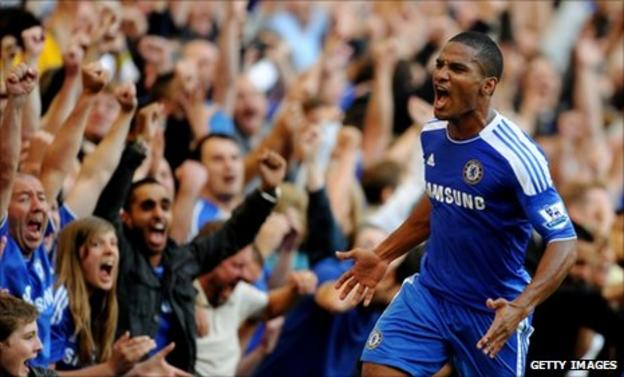 Substitute Florent Malouda scored seven minutes from time to give Chelsea victory against West Brom at Stamford Bridge.
The Blues were poor in the first half and conceded early on when Shane Long capitalised on a mistake by Alex before slotting his shot past Hilario.
Forward Nicolas Anelka equalised after the break when his angled strike took a deflection off Jonas Olsson.
Malouda grabbed the winner when he converted Jose Bosingwa's cross.
West Brom had other chances to extend their lead after Long's goal, but Chelsea manager Andre Villas-Boas' tactical tinkering late in the first half appeared to mend the cracks that surfaced during those early stages.
Chelsea were flat and the wave-on-wave of attacks that used to overwhelm teams merely rippled, with only forward Fernando Torres showing passion and commitment to the cause.
If Chelsea's attack was malfunctioning, their defence appeared to suffer meltdown in gifting West Brom that early opening goal.
Alex slipped after receiving a pass from fellow Brazilian Ramires and was then left chasing as Long ran through and slipped his shot past Hilario.
The Baggies should have doubled their advantage moments later when Long went clear on the right but he put too much pace on his cross for Somen Tchoyi, who surely would have scored had the pass been more accurate.
West Brom keeper Ben Foster was called into action on a couple of occasions, first when he tipped over a fierce shot from Ashley Cole before he was fortunate to be in the right position to block Alex's deflected free-kick.
Chelsea's came to life in the last 10 minutes of the first half following that tactical adjustment from Villas-Boas as the home side changed to a diamond formation after Malouda replaced Salomon Kalou.
That verve was maintained in the opening moments after the break, during which time they equalised.
France forward Anelka broke into the area on the right before shifting his feet and firing a low shot which took a deflection off Olsson, beating a static Foster.
That was more bad luck for the Baggies, who lost to Manchester United last week as a result of a deflected strike.
Chelsea came close to taking the lead shortly after the restart when Anelka's low drive was blocked by the feet of Foster before Steven Reid dived heroically to fend away Malouda's follow-up.
But there was no misfortune about the winner. Bosingwa used his pace to make space on the right before delivering a low ball to the back post which Malouda tucked away.
West Brom replacement Peter Odemwingie could have given the Blues a nasty shock in the closing moments, but he directed his volley into the clutches of Hilario.
Chelsea manager Andre Villas-Boas
"Their mental attitude for the second half was good.
"There was a sense of realising the space and better options without being anxious like they were in the first half. It goes down to them.
"It was a difficult game. The first goal was very early and the crowd became anxious and that passed onto the pitch.
"We had to remove the anxiety and be mentally tranquil.
"The players were able to free themselves from that and work at their best."
West Brom manager Roy Hodgson
"Certainly there are a lot of positive things from last week's game and this week's game.
"But it was disappointing to lose. For 60 minutes we did quite well.
"On another day, like last week, we could have come away with a result.
"We got in behind them on plenty of occasions and could have scored more than the one goal we got."