Kwarasey wants to be Ghana's first choice keeper
By Michael Oti Adjei
BBC Sport, Accra
Last updated on .From the section Football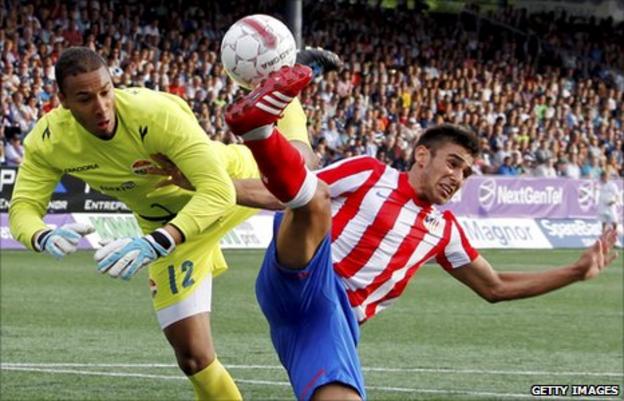 Adam Kwarasey is confident he can become Ghana's new first choice goalkeeper when Richard Kingson leaves the scene.
He told the BBC his time with the squad has strengthened his resolve for a long term international career with Ghana.
"I felt right away that that this is home," he said.
Kwarasey has a Norwegian mother and a Ghanaian father and represented Norway once in a Under-20 friendly international.
But he had a change of heart and has been pushing for the last three years for an international future with Ghana.
Football's world governing body Fifa recently ruled that because he had not yet played a competitive game for Norway, he was free to pursue a career with the Black Stars.
He earned his first call up to the Ghana senior side for the friendly against Nigeria and had actually been named as first choice goalkeeper ahead of Richard Kingson before it was called off over security fears.
"I was sad because I had been looking forward to this game for a long time," he said.
Kwarasey knows there is no guarantee he will be called up or picked as first choice for the 2012 Africa Cup of Nations qualifier against Swaziland on 4 September in Accra with Richard Kingson still around.
The former Blackpool goalkeeper is without a club and under increasing pressure after errors in recent games for Ghana but Kwarasey says he still has huge respect for Kingson.
"Kingson is a good goalkeeper and an experienced one - hopefully he will be around for a while and I can learn from him," Kwarasey said.