Rangers must be united - Ally McCoist
Last updated on .From the section Football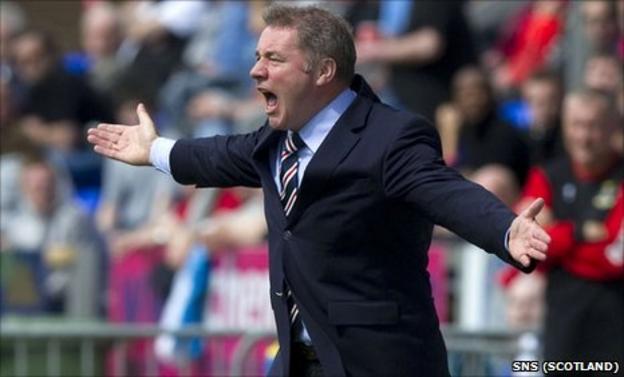 Rangers manager Ally McCoist insists he is getting the full backing of the club following recent criticism of his transfer dealings.
Speaking after the 2-0 win at Inverness, McCoist said: "I think there's maybe a little bit of nonsense and people stirring things up.
"There will be no success for this club if we have splinter groups or factions.
"That cannot happen and it will not happen, I won't allow it to happen, it's as simple as that."
The Ibrox club have missed out on several of their prime summer targets, including striker David Goodwillie, while others were not brought in in time for the Champions League qualifying defeat to Malmo.
"Of course I've got backing," McCoist told BBC Radio Scotland.
"We've all got jobs to do and we know what our jobs are at the club. My job is to get a team on the park that win games of football.
"We all have to be singing from the same hymn sheet and that's the way it will be.
"Whether it's a director, an owner, a goalkeeper, me, a coach, a left-back - we win and lose together, that's what we do.
"It's not a matter of 'it's not my fault, it's somebody else's fault'. It's everybody's fault, we're in it together, every one of us. It's everybody's job to be united and we are united."
Alejandro Bedoya has been awarded a work permit and may join Rangers ahead of his planned January arrival, while McCoist is also hopeful of having Australian Matt McKay added to the squad soon.
"That be ideal, we're very hopeful that'll be the case," said McCoist. "We've received the work permit for Bedoya, hopefully we can bring him in.
"We've got other work permit issues as well and we're pursuing other areas of the team.
"I'm very hopeful we can get a couple of bodies in.
"I'll be doing my utmost and we all will be doing our utmost to bring in quality that the fans deserve and indeed our good players deserve also."
Of the game in the Highlands, McCoist was pleased to record a second straight league victory.
Nikica Jelavic scored a penalty and Maurice Edu grabbing the second with a rebound after Jelavic's second spot-kick was saved. Both awards were disputed by the home side.
"I'd need to see them again," added McCoist. "Before that we might have had penalty kicks and we might not have had a goal disallowed.
"That's just the talking points of the game. Sometimes they go for you, sometimes they go against you.
"I felt we played a lot of good football. It was encouraging. We deserved our victory."