Inverness boss Terry Butcher fumes at Gers penalties
Last updated on .From the section Football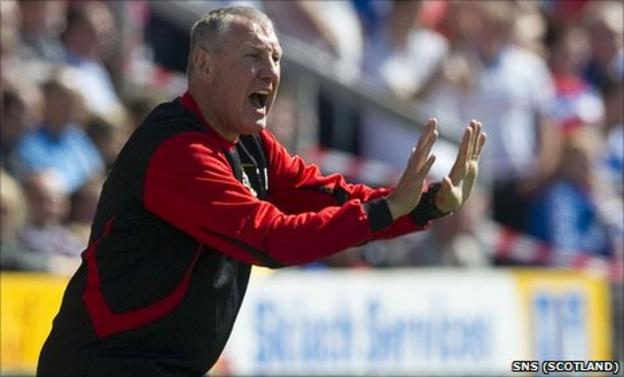 Inverness Caledonian Thistle manager Terry Butcher was furious at the award of two penalties against his side in the 2-0 home defeat by Rangers.
Ross Tokely was sent off for a tackle on Steven Naismith that led to the first penalty, then Dorin Goian was tumbled by Tom Aldred.
"I'm very angry," said Butcher. "This is the second game in succession that penalties have been the main factor.
"I've seen the second one and it's nowhere near a penalty."
Rangers also had a man sent off during the match in Inverness, with Maurice Edu picking up two bookings, but the visitors held on comfortably to claim their second win of the season with both goals ultimately coming from spot-kicks.
Butcher spent some time in the referee Euan Norris's room after the match, clearly incensed by the decisions awarded during the match and postponed speaking to the media until he had calmed down.
He jokingly told BBC Scotland reporter Chick Young: "I couldn't speak to you 10 minutes ago, because I would have probably ripped your head off.
"I thought I would have a quiet 15 minutes with Euan Norris and have a chat about things."
The result roots Inverness firmly at the foot of the Scottish Premier League table with only one point from their opening four matches and Butcher feels his side can no longer play a strident style of football for fear of punishment for referees.
"We're getting to the stage where we just don't make tackles," said Butcher.
"It'll be more like ballet than anything else - we just can't afford to make tackles because we run the risk of getting red cards."
The former Rangers captain clearly felt both penalty awards were contentious but two earlier handball offences from Butcher's side went unpunished and an early goal for the visitors was ruled offside.
"We didn't get one penalty out of three claims against Hibs, so we feel very aggrieved and hard-done by.
"When Rangers got their first penalty, it was an even game - it was 0-0.
"We had a game plan we were sticking to and we were building up to a good climax. Then, bang, the ref sends my player off - a double whammy. They scored, we were down to 10 men.
"While we didn't play anywhere near what we would like to or can do, we're still playing well.
"It always comes back down to penalties at the end of the day and I was pleased with the way we went about our task.
"We were very much in the game and one decision has killed it for us."