Joey Barton 'not proud' of role in Gervinho spat
Last updated on .From the section Football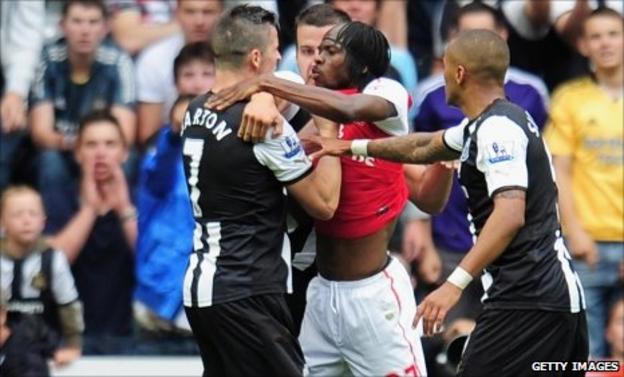 Newcastle's Joey Barton has admitted he "was not proud" of his reaction to an altercation with Arsenal striker Gervinho.
Gervinho was dismissed on his Gunners debut for slapping Barton, who was booked for dragging him to his feet.
Barton said on BBC Radio 5 live's 606 programme: "I'm not proud of the way I reacted. I did go down easily.
"I shouldn't have lifted Gervinho up by his shirt and that's not the correct thing to do."
Barton was criticised for his part in the Ivory Coast striker being shown a straight red card by referee Pete Walton.
But the former Manchester City midfielder insists Walton made the right call in not awarding a penalty.
He added: "The stadium was full, the fans have grafted all week to pay to come and see us and I felt Gervinho was seeking to gain an unfair advantage and cheat us out of a point.
"He was already on his way down and I don't think it was a penalty. There was minimal contact but he was looking for it.
"At the end of the season that point could be the difference between Newcastle getting into Europe or not, or staying in the league or not.
"I've been hit harder by people at school but that doesn't make what he did right or wrong.
"The last thing we need as a football club, I need as a player and Arsenal need is for this to drag on. The Football Association and officials are normally bang on and I've no doubt that if there are any further repercussions they will get to the bottom of it."
Arsenal boss Arsene Wenger argued that both players deserved the same punishment.
"I don't understand the red card," said Wenger. "I am 100% sure the referee did not see what happened.
"I think he has his back turned to the incident. If he had seen it, he would have sent both of them off, or nobody."
The pair tangled after striker Gervinho went down in the Magpies area, with midfielder Barton marching over to remonstrate with the Ivorian.
"Why does Joey Barton go over there and grab him him up?" added Wenger. "It is a yellow to the two or a red to the two, and what happened is not serious.
"Will I appeal? I will have a good look at it but I am tempted to say yes."
Newcastle boss Alan Pardew defended Barton, who is on the transfer list at St James' Park after criticising the club and only played in Saturday's draw after persuading his manager he was committed to the cause.
"He [Gervinho] dived, there is no doubt about that," Pardew said. "Joey's reaction was to chastise him and then there was a tussle. But then he slapped him and you can't do that."
Clarke Carlisle, chairman of the Professional Footballers' Association, told BBC Radio 5 live's Sportsweek on Sunday that incidents involving Barton get blown out of proportion because of his reputation.
"With another player, I don't think the situation would be as big as it is," he said.
Barton had been involved in an earlier incident which was missed by referee Peter Walton, when Arsenal's Alex Song stamped on him.
Pardew was adamant Barton did not lose his cool, but said he was angry the Gunners midfielder escaped punishment.
"I think Joey was calm, but Song did stamp on him and that was disappointing," added Pardew. "I had him [Song] as a player at Charlton and that was out of character for him.
"Joey was incensed. When a fellow professional dives, that gets your back up. Joey is an opinionated guy. He has opinions and expressed them."