St Mirren boss Danny Lennon certain of wins to come
Last updated on .From the section Football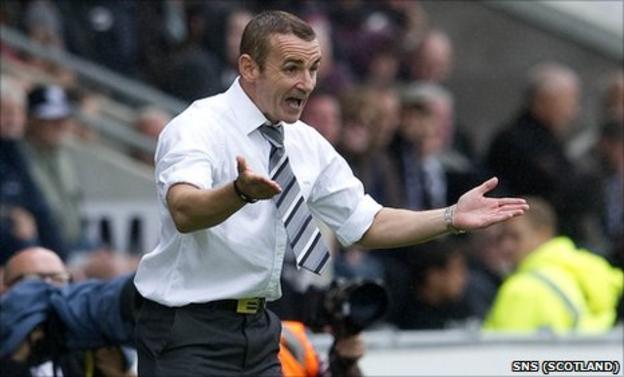 St Mirren manager Danny Lennon is confident his side's performances will transform into wins, despite a 1-0 home league defeat by Motherwell.
A dramatic last-minute free-kick from Tom Hateley sealed the win for Motherwell, but Lennon was pleased with his side's resolve.
"We certainly believe if we play in that manner week in and week out, we'll pick up more points," said Lennon.
"We've had some misfortunte this week - and that happens at every club."
The loss denied St Mirren the chance to climb into third place in the league table, after Hateley snatched the three points for Motherwell when his 20-yard free kick found the net in stoppage time.
However, Lennon wasn't convinced that the foul should have been awarded in the first place and felt his side had enough chances to win the match in the second half.
"We asked a few more questions in the second half, we created one or two very good opportunities," said Lennon.
"What we witnessed was a good game of football with two teams trying to get the ball down.
"To be perfectly honest, with Motherwell, they're up there at the top of the table, and it was a quality strike to win any game of football.
"But from where I was, I felt there were one or two decisions went the other way, but that's part and parcel of football.
"It's done and dusted - we take it on the chin, dust ourselves down and look for a bit of character to build back next week."
Despite the defeat, Lennon remains convinced that his team are capable of winning more matches and keeping up the pressure in the top half of the table, even though he was hampered by some call-offs ahead of the match.
"I feel we have enough quality there to come in, even though we were a bit thin this morning," added Lennon.
"But the three players who came in today were three new faces - and it didn't upset our rythmn.
"Each of them acquitted themselves very, very well."