Sir Alex Ferguson has faith in Manchester United's young defenders
Last updated on .From the section Football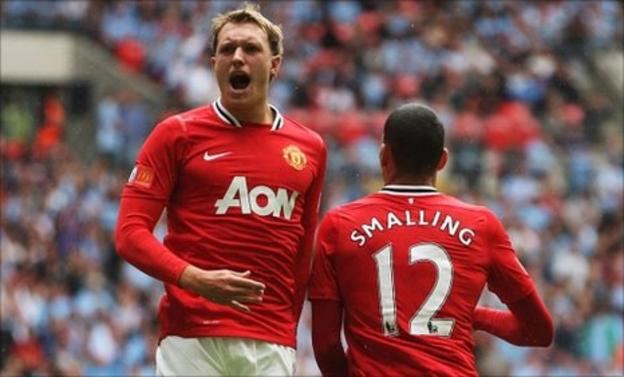 Manchester United boss Sir Alex Ferguson has shrugged off concerns that the defence he plans to field against Tottenham is too inexperienced.
With Rio Ferdinand and Nemanja Vidic injured, Phil Jones (19), Chris Smalling (21) and Jonny Evans (23) are all likely to start on Monday.
"We are confident in the players coming in," said Ferguson.
"They have the potential, temperament and courage to play and I think they'll do very well."
Ferguson admitted that "top-level players with experience are vital" but insisted he was excited about seeing how his young players would perform against Spurs.
"You can't beat experience, there's no question about that," he said.
"But I'm looking forward to Monday rather than worrying about it. I think they'll do very well."
United face Tottenham at Old Trafford - a fixture they have not lost since 1989 - in the knowledge that captain Vidic faces up to five weeks out with a calf injury.
Ferdinand is set to miss up to two weeks with a back problem and Ferguson is expected to pair Jones and Evans together at the heart of his defence with Chris Smalling filling in at right-back.
"Vidic has never had a calf injury, but these things happen and calf injuries can be difficult, so you have to be careful," said Ferguson.
"Rio has had issues with his back and hamstrings and from time to time it surfaces, and this was another occasion, but fortunately it is not serious so he should be back soon.
"In respect of those injuries, there's nothing you can do if they are injured, so it's not an issue for me at the moment in terms of deciding who are the centre-backs.
"When they're both fit, or one of them is fit, then I've a decision to make, and I know they're both aware of the abilities of the other players, no question of that."
The 69-year-old at least has Patrice Evra available again at left-back after he missed the game at West Brom with a knee injury, but Rafael da Silva faces about 10 weeks out with a dislocated shoulder.