Sutton tips Templeton to cause Spurs problems
Last updated on .From the section Football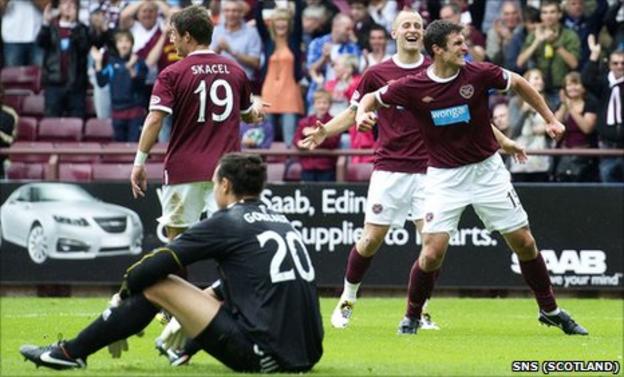 Hearts striker John Sutton believes David Templeton is capable of causing Tottenham problems in Thursday's Europa League tie at Tynecastle.
And Tottenham assistant first-team coach Clive Allen was looking on.
"I've got David Templeton to thank for my first goal - he's got unbelievable ability on the ball and he'll be one they'll be watching," said Sutton.
Sutton began his career as a trainee at Tottenham but did not make a first-team appearance.
The 27-year-old is well-travelled since leaving White Hart Lane in 2003, having played for five clubs in Scotland and four in England.
His chances at Spurs were limited by the presence of the likes of Teddy Sheringham and Les Ferdinand, who is involved in coaching the current team's strikers.
"I remember playing with Les - I don't know if he'll remember playing with me," said Sutton.
"We had quite a successful youth team there but they've all left now.
"There were some real quality players when I was there and that's still the case."
Tottenham were without a match on the opening weekend of the Premier League season following the postponement of their clash with Everton as a result of the rioting in London, granting an opportunity for Allen to visit Edinburgh.
The score perhaps flattered Hearts and Sutton hopes any complacency in the Spurs ranks can be seized upon.
"I hope they go back, think we're hopeless and don't prepare very well," added the striker.
"We're definitely outsiders going into the game, but everyone's really looking forward to it.
"It's a tricky one for us because the managers have changed at the club and we're probably trying to play a slightly different way now.
"It's going to be an electric atmosphere on Thursday and I'm sure the fans are very excited.
"I'm just hoping we get a good result and make the two legs very competitive."
Following Saturday's win, manager Paulo Sergio acknowledged that his side have much work to do to have any chance of surprising Tottenham.
"I'm afraid of nothing in life," said the Portuguese. "I respect a lot all our opponents and we know the reality.
"We know it's going to be a big challenge for us - there is a huge difference between the clubs - but I'm sure we have cards to play.
"It's impossible to achieve perfection. We have to improve every day. I'm never satisfied with what we do. Never."