Lord Reid hails Celtic's drop in debt
Last updated on .From the section Football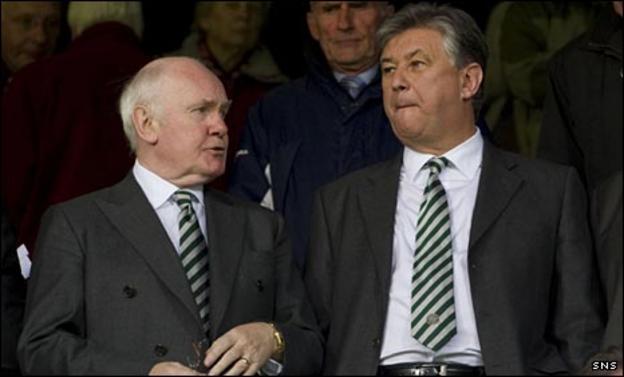 Lord Reid has described as remarkable Celtic's ability to reduce their debt and record a small profit in a year when revenue and turnover fell sharply.
Net bank debt fell £5.32m to £530,000, while a £102,000 operating profit compared to a £2.13m loss.
But turnover fell 14.8% to £52.56m, while revenue dropped £9.16m to £52.56m in the year to June.
And outgoing chairman Reid said it was a "highly commendable" performance in the current economic conditions.
Reid pointed out that the recession, the financial problems in Scottish football in general and Celtic's early exit from both the Champions League and Europa League had produced a particularly difficult climate.
"Turnover decreased by 14.8% to £52.56m, affected by the reduction in European matches and the ticket and broadcasting revenues that they generate, and a decline in merchandising sales in a difficult retail market," he said in his final annual statement.
"Against this background, the achievements of everyone at the club - management, staff and our faithful supporters - appear even more outstanding.
"To achieve and maintain financial stability, and attain a very manageable debt position, while continuing to invest significantly in strengthening the football squad and generate profit in the football sector in Scotland in these conditions is highly commendable.
"And yet, as our annual report shows, as a result of these efforts and our activity in the transfer market, we managed to turn last year's loss into break-even, to reduce our debt considerably and still invest a substantial amount in new players."
Celtic had been aided by the sale of homegrown talent like Aiden McGeady, sold to Spartak Moscow for £9m, and Stephen McManus to Middlesbrough for £1.5m.
However, Reid believes that new manager Neil Lennon had used the money to improve the quality of the squad, with investement in the scouting and youth system paying dividends.
"With a significant investment in football personnel of £10.29m, our commitment to achieving domestic success and meaningful participation in Europe remains," he said.
"Our year end net bank debt - being all our bank borrowings offset by cash - of £530,000 is massively down on the half-year figure we reported (£9.09m) and substantially down on the £5.85m at 30 June 2010.
"Both of these higher debt figures, sanctioned by the board in order to finance player investment for the incoming new management team, and the subsequent reduction in debt levels were planned as part of our maintenance of financial stability and the independence that comes with it."
Reid commended Lennon and his management team for lifting the Scottish Cup and coming "within a whisker" of the Scottish Premier League title.
This, said the chairman, had been achieved in a controversial season during which Lennon was the subject of unprecedented personal pressure as sectarianism again took centre stage in Scottish football.
"In his first full season as a manager, Neil has succeeded in restoring a pride and passion to our play, showcasing emerging talent and uniting our supporters," he added.
"To do that in any normal environment would be a major achievement, but to have done it in the deplorable context of death threats, a physical assault and explosive devices, was nothing short of extraordinary."