Matt Bloomfield column: Life in League One
By Matt Bloomfield
Wycombe Wanderers midfielder
Last updated on .From the section Football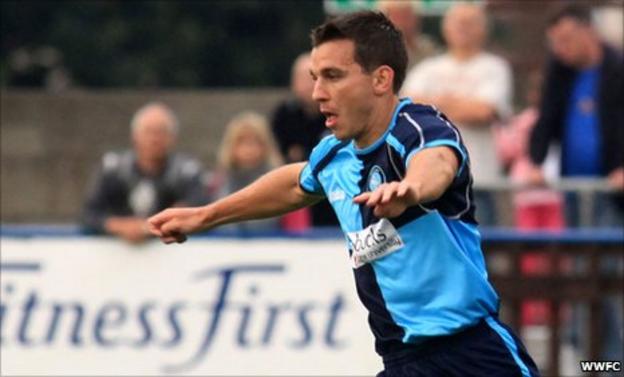 The void that has been in our lives for the past three months has been filled and competitive football has returned.
I, like other football supporters up and down the country, had been counting down the days until the Football League kicked off.
However, as well as being a football supporter, I am lucky to carry out what we all dreamed about as kids - playing the game professionally as a career.
My name is Matt Bloomfield, and I will attempt throughout the season to give an insight into League One football both on and off the pitch, and how my club - Wycombe Wanderers - adapts to life back in League One.
Getting promoted was a truly fantastic feeling and it is the reward of 10 months' hard graft. We were very proud as players to be able to achieve this for our club, and the excitement and anticipation soon kicked in for what the new season has in store.
League One is now a very competitive league, and there are some very good players now playing in this division. I believe that the standard has even improved since our last participation two seasons ago.
There are some massive football clubs who have followings to match, and I am sure we will play in front of more than one 20,000-plus crowd this season.
Their wage budgets will be worlds away from ours and I am sure that these clubs have aspirations to not only get up into the Championship, but beyond that.
Many will suggest that a successful season for us will be to just stay in the division. We will obviously be delighted if we can achieve this, but we have to be ambitious and set our sights a little higher.
Bournemouth and Rochdale both did fantastically last season to follow on from their promotion campaigns to again challenge in the top half. We are up and running after getting our first point on the board last weekend against a really good Scunthorpe team, who I am sure will be challenging for honours in May.
Both Sheffield clubs, Charlton, Huddersfield, Preston and MK Dons will also have the automatic promotion places in their sights. Numerous teams will believe that the play-offs are a realistic target and there are always one or two surprise packages. It all makes for a very exciting and competitive division from top to bottom.
I am also studying for a degree in sports writing and broadcasting as I plan for life after football. I feel very privileged to be able to do what I do for a living, but I don't take it for granted and it is never too soon to start making plans for what to do next.
I feel like I have got many years left still playing but I have thoroughly enjoyed my course so far at Staffordshire University.
Hopefully I can put that to good use in this column and I'm looking forward to sharing more views from League One with you over the coming months.