QPR midfielder Kieron Dyer set for quick injury return
Last updated on .From the section Football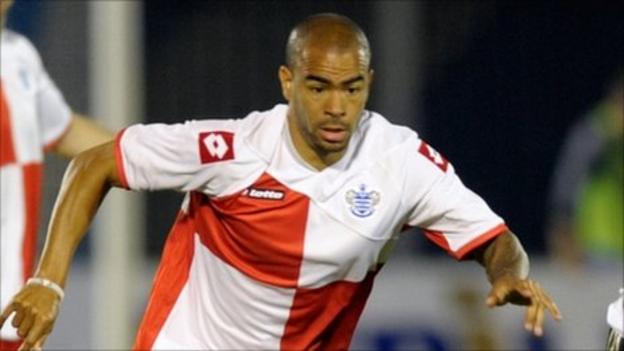 QPR midfielder Kieron Dyer is set to return from injury sooner than expected after suffering a foot injury less than five minutes into his Rangers debut.
But QPR physio Nigel Cox said Dyer will return in "days rather than weeks".
"The early indication we are getting is that the injury certainly isn't as serious as first feared," said Cox.
"At the time, Kieron said he felt a 'popping' sensation, so he understandably feared he had broken a bone in his foot.
"But you can have that feeling with ligament damage as well. At first we thought it was a fracture but we had an X-ray on the day and an MRI as well, and that's shown there is no bone fracture.
"But the foot is a very dextrous part of the body and there are a tremendous amount of ligaments involved.
"We still had concerns that an important ligament - which can be a debilitating injury if missed - was damaged, so we had a further X-ray on Monday to rule that particular ligament out. Thankfully, that came back clear and there is no Lisfranc injury."
It was Dyer's first league appearance for newly-promoted QPR since being released by West Ham at the end of last season.
Dyer has been plagued by injuries throughout his career, managing only 35 appearances during his four seasons with the Hammers after sustaining a broken leg and also suffering with a hamstring problem.
Injuries also affected his time at Newcastle, when hamstring trouble kept him sidelined for the first part of the 2005-06 season.
Cox added: "At this stage it looks like a soft tissue ligament injury.
"There has been a lot of swelling and Kieron is still in some discomfort, but it is moving forward quite rapidly.
"We are cautiously optimistic at this stage. If it does prove to be what we believe it is, we are looking at him returning to training in days rather than weeks."